One more win will do the trick.
The Trinidad and Tobago national women's senior team moved within 90 minutes of a place at the Canada 2015 Women's World Cup tournament yesterday after another hard-fought triumph at the 2014 CONCACAF Championship.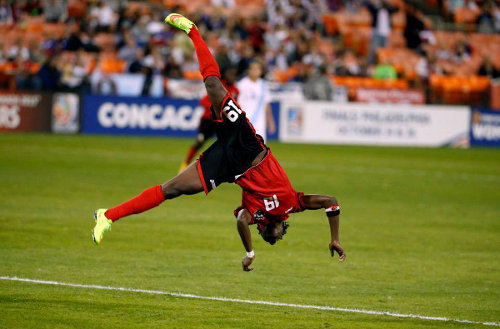 This time, Guatemala was the victim as the "Women Soca Warriors" downed the Central American nation 2-1 at the RFK Stadium in Washington to advance to the semi-final of the confederation's show piece tournament.
The Warriors are guaranteed two more fixtures in the CONCACAF competition. If they win just one of those matches, they will become the first Caribbean women's team to ever qualify for a FIFA tournament.
"We know that Trinidad and Tobago needs this and we are honoured to put Trinidad and Tobago on the map in a more positive light once again," said Trinidad and Tobago captain Maylee Attin-Johnson. "This is our first time at senior level we ever qualified to the second round of a tournament so this group is about making history and leaving a legacy."

The Women's Warrior captain was mostly right. In truth, Trinidad and Tobago got to the semi-finals of the inaugural Women's CONCACAF Championship in 1991, under late coach Robbie Greenidge, and finished third. The two island republic's only defeats of that competition came against the soon-to-be world champions, the United States, and Canada.
Attin-Johnson was five years old at the time.
The Trinidad and Tobago women were fourth again in 1993 and 1994. In contrast, it was not until 2000 that the men's team got past the group stage in the CONCACAF tournament.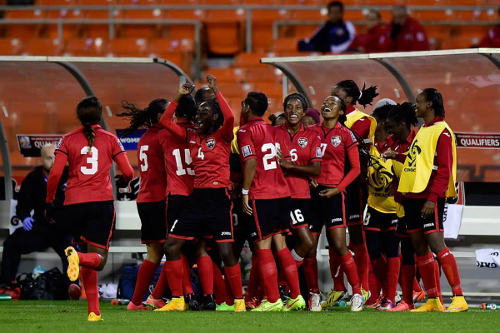 Two decades ago, then FIFA vice-president and local football special advisor Jack Warner said the women's game represented Trinidad and Tobago's best chance of advancing to a senior FIFA tournament and promised to develop their football. But, for the most part, it proved to be lip service and the ladies soon slipped behind the likes of Mexico and Costa Rica.
The women failed to get out of their group for the first time in 1998 and then did not win a match at all in the 2000, 2002 and 2006 editions while their only victory in the 2010 tournament came against Guyana.
The early promise did not last. Now, Attin-Johnson and company are trying to build a more lasting legacy.
On Friday night, the Warriors will face Costa Rica from 7.30 pm in the CONCACAF semifinal at the PPL Park in Chester, Pennsylvania before moving on to either the final or third place play off at the same venue on Sunday.
Should Trinidad and Tobago win one of those two games, coach Randy Waldrum and his players will make history. And, even if they lose both, there is still a chance of getting to the Canada World Cup via next month's two-legged FIFA Play Off against Ecuador.
For the first time, glory is within touching distance for the Women Warriors.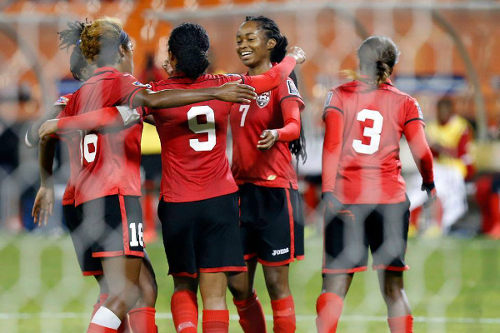 Much has been made about the women's shambolic preparation en route to this competition. And there is still visible evidence of the internal issues as Lincoln "Tiger" Phillips and Ben Waldrum—the father of Trinidad and Tobago Football Association (TTFA) general secretary Sheldon Phillips and son of the head coach, Waldrum, respectively—sit on the bench as assistants rather than local coach Marlon Charles, who guided most of the girls since they were teenagers but was sacked four days before their departure to the United States.
Waldrum's infamous tweet will possibly last as long in the memory as anything the women have done on the field so far. But the more serious concern is the ill-timed injuries that kept the women in second gear for much of the tournament.
Veteran Tasha St Louis, who played in the false number nine role for Trinidad and Tobago's Caribbean Cup triumph but usually starts in midfield, and deep-lying playmaker Karyn "Baby" Forbes are two of the most influential players in the squad. But they barely managed a combined 90 minutes for the tournament due to hamstring injuries.
Versatile central defender Ayanna Russell and pacy, industrious midfielder Janine Francois are also struggling with knocks while, against Guatemala, Waldrum started with the teenaged Tanesha Palmer in goal due to the suspension of the Caribbean's best goalkeeper Kimika Forbes.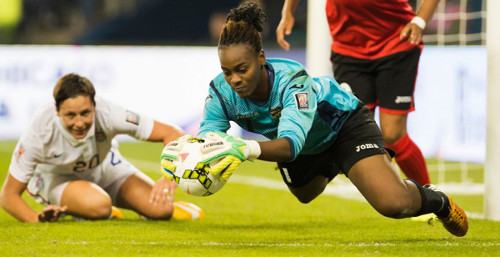 "We haven't played our best game yet," Attin-Johnson told FoxSports. "Once we get our possession game going, I think we can go all the way to the finals."
It was no idle boast. CONCACAF deserves to see the Trinidad and Tobago women at their best; perhaps, so does the World Cup.
And who knows how good they can be with the proper preparation and administrative support?
Yesterday, Waldrum made four changes to his starting team as versatile defender Lauryn Hutchinson returned to the first team while playmaker Dernelle Mascall and the teenaged pair of under-20 captain Anique Walker and Palmer made their first starts of the competition.
Incidentally, Walker is one of five players in the senior team who played at the 2010 Under-17 World Cup, which Trinidad and Tobago participated in as the host nation. Full backs Brianna Ryce and Liana Hinds and Khadisha and Khadidra Debesette also graduated from that youth team.
Against Guatemala, Waldrum used Attin-Johnson in a deeper role to compensate for Karyn Forbes' absence while Mascall played just behind the striker.
Trinidad and Tobago moved the ball around briskly in the first two-thirds of the field but lacked inspiration through the centre in the final 40 yards with Mascall and Walker still trying to find their feet at this level.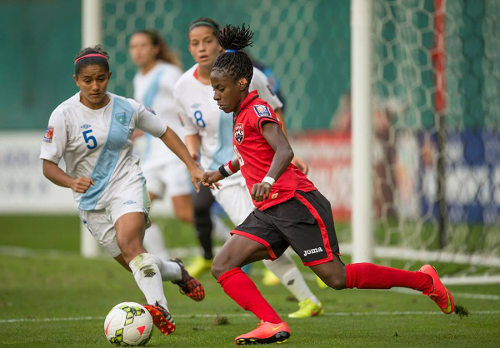 Thankfully, wingers Ahkeela Mollon and Kennya "Yaya" Cordner did not need much help yesterday.
After a peripheral opener against the United States, Mollon was excellent in her last two outings and she again created the opener with a superb cross that Cordner finished with a confident, precise headed flick into the corner.
Cordner, the Tobago-born jewel who is a credit to Dwight Yorke's legacy, also won the penalty for Trinidad and Tobago's second goal which was comfortably dispatched by Attin-Johnson.
Guatemala got a consolation item in stoppage time as the Trinidad and Tobago defence reacted slowly to a left side free kick and Maria Monterroso capitalised with a backward header that deflected over Palmer.
By then, Trinidad and Tobago was already home and dry, though.
Costa Rica would be favourites on Friday. But the Central American nation will be wary of Cordner,Mollon and Attin-Johnson while Trinidad and Tobago's rugged defensive set-up, led by Arin King, Rhea Belgrave and the returning Kimika Forbes, has been the team's best quality so far.
Mascall and Walker should be more attuned to the competition by then too. And perhaps Mariah Shade, the Caribbean Cup's MVP and a deceptive off-the-ball runner and clinical finisher at her best, will finally bring her understated menace to the competition.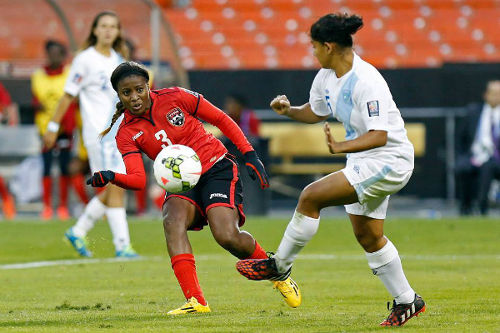 Or, just maybe, Karyn Forbes will finally be ready for action to mesmerise with her set piece deliveries and combination of quick, short passes to free up her midfield partners and booming 40-yard balls to release Mollon and Cordner.
In midfield or upfront, St Louis' long range shooting and creativity can be priceless.
The Women Warriors are nearly there. It is the little details that will make the difference now.
(Team against Guatemala)
Trinidad and Tobago (4-2-3-1): 17.Tenesha Palmer (GK); 16.Brianna Ryce (11.Janine Francois 89), 4.Rhea Belgrave, 5.Arin King, 20.Lauryn Hutchinson; 15.Liana Hinds, 9.Maylee Attin-Johnson (captain); 12.Ahkeela Mollon (2.Ayanna Russell 84), 7.Dernelle Mascall, 19.Kennya Cordner; 13.Anique Walker (3.Mariah Shade 52).
Unused substitutes: 6.Khadidra Debesette, 8.Patrice Superville, 10.Tasha St Louis, 14.Karyn Forbes, 18.Khadisha Debesette.
Coach: Randy Waldrum