Police FC and North East Stars both secured narrow victories yesterday evening at the Marvin Lee Stadium in Macoya to book their places in the semi-finals of the 2014 First Citizens Cup. Police got a stoppage time winner from defender Elijah Belgrave to sink Rangers while Stars ousted 10-man Caledonia via kicks from the penalty spot.
If you were running late for the first of the evening's double-header then you would have probably missed the opening item. Referee Keilon Bacchus whistled for a debatable handled ball in Rangers' six-yard box and Police captain Todd Ryan finished the spotkick with aplomb; one-nil to Police after three minutes.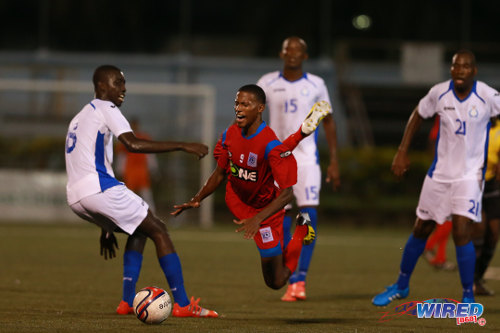 The "Lawmen" tried to assume control of the game and get their passing flowing but found Rangers captain Jelani Peters and centre-back Al Davidson particularly solid at the back. When the duo did not get it right, Police marksman Jameel Perry sought to take advantage but he just could not find his shooting range.
Police had the goal advantage but never looked fully settled and Rangers, with the quick feet of winger Josh Toussaint, looked promising on the counter attack.
Coach Jason Spence made his intentions clear at the start of the second half as he introduced Kennedy Isles and Sedale McLean. The pair, who had floating attacking roles, injected some life and imagination into the Rangers attack and gave the Police backline something to think about.

Police would argue that the game should have been wrapped up within a five-minute spell in the second period but due to officiating and their own wastefulness it was not to be.
First, in the 57th minute, Police winger Christon Thomas had his goal belatedly waved off by the assistant referee, while, five minutes later, Perry was thwarted by the long reach of Rangers goalkeeper Christopher Biggette in a one-on-one opportunity.
Police would squander another glorious chance through Marcus Chandool in the 79th minute before Isles made them pay with a wonderfully taken equalizer in the 81st. The Kittitian collected the ball from around 24 yards before hitting a dipping right-footed shot past the outstretched dive of goalie Adrian Foncette.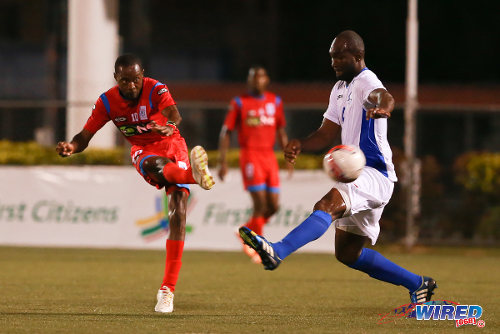 The final ten minutes or so were played at an intense pace as both teams pushed for the winner. In the last of the three added minutes, Police fashioned a great chance but Biggette came up big once more, this time denying midfielder Micah Lewis.
It looked as though it was destined to be Biggette's night but the lanky custodian was hapless to stop the unmarked Belgrave's bullet header from the ensuing corner. Belgrave's goal was virtually the last action of the game and it saved his team the drama of a lottery shootout.
Caledonia AIA and North East Stars could not avoid the dreaded shootout though as they battled to a tightly contested 1-1 draw in regulation time. Ex-Caledonia forward Tyrone Charles and current employee Pernell Schultz exchanged items for either team in the first half with "Cale's" strike literally coming from nothing.
Schultz's effort, in the 44th minute, was a deflected shot from distance that came against the run of the play.
The real battle in the game, however, was the one that brewed between Stars' Jeromie Williams and Caledonia captain Densil Theobald. The two midfield generals were at each other's heels for most of the encounter and almost came to blows at one point in the first half although referee Merville Wallace dealt with the situation appropriately.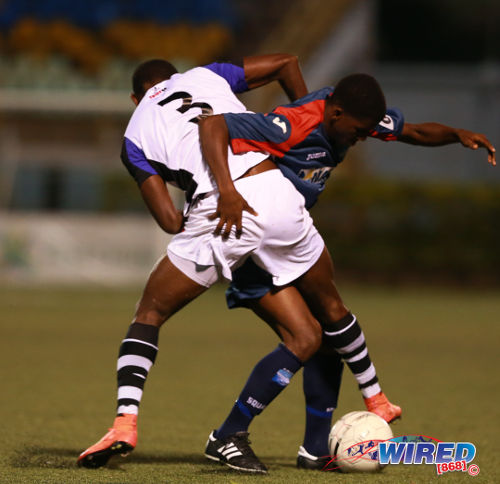 Wallace was not as lenient with Caledonia attacker Keyon Edwards though as the "Eastern Stallions" star was shown a red card for dissent in the second half. Caledonia coach Shabazz could probably have done with Edwards' precision in the penalty shootout as his team succumbed 4-1 with Stars goalkeeper Cleon John not even forced into a save.
(Teams)
Police FC (4-1-3-2): 18.Adrian Foncette (GK), 25.Noel Williams, 4.Anton Hutchinson, 20.Elijah Belgrave, 24.Jibri McDavid (29.Clevon McFee 60), 8.Kurdell Brathwaite, 12.Micah Lewis, 21.Todd Ryan, 19.Christon Thomas, 30.Marcus Chandool, 15.Jameel Perry (9.Hector Sam 64).
Unused Substitutes: 34.Keston Mata (GK), 2 Jasimer Ashers, 17.Dexter Alleyne, 35.Kerry Frederick, 36.Tafari Williams.
Coach: Richard Hood
St Ann's Rangers (4-2-3-1): 22.Christopher Biggette (GK), 4.Jelani Peters, 3.Al Davidson, 6.Shaquille Moses, 5.Chad Clinton, 18.Emmanuel Joseph (8.Sedale McLean 45), 23.Craig Wilson, 17.Keron Alexander (28.Jared Bennett 72), 9.Keron Cornwall, 11.Josh Toussaint, 7.Trevin Latapy (10.Kennedy Isles 45).
Unused Substitutes: 1.Junior Granger (GK), 14.Shabaka Mahluli, 19.Shomari Antoine, 24.Kasheem Webb.
Coach: Jason Spence
Referee: Keilon Bacchus
First Citizens Cup quarterfinals
(Sat Oct 18)
Police FC 2 (Todd Ryan 3 pen, Elijah Belgrave 90), St Ann's Rangers 1 (Kennedy Isles 81) at Macoya
Caledonia AIA 1 (Pernell Schultz 44), North East Stars 1 (Tyrone Charles 24) at Macoya
*–NE Stars wins 4-1 on penalty kicks.
(Fri Oct 17)
San Juan Jabloteh 2 (Sterling Newton 14, Adrian Reid 35), W Connection 0 at Couva;
Central FC 1 (Ataulla Guerra 41 pen), Point Fortin Civic 1 (Andre Toussaint 2) at Couva;
*–Central FC won 3-2 on penalties;
Semifinal fixtures
(Fri Oct 24)
Central FC v Police FC, 6 pm, Ato Boldon Stadium;
North East Stars v San Juan Jabloteh, 8.15 pm, Ato Boldon Stadium;