Who can tame the "Westmoorings Tigers?"
St Augustine Secondary joined the list of overwhelmed school teams this season as the "Green Machine" fell 3-0 to St Anthony's College despite playing at home.
The Tigers have won all six SSFL Premier League Division matches thus far this season and, at this point, it seems that they have a tougher time negotiating match officials than school boys.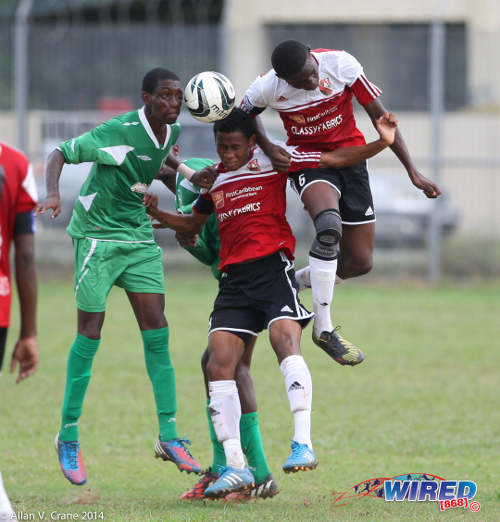 In five games, St Anthony's collected four red cards despite not being an overtly nasty team. There were no expulsions today although coach Nigel Grosvenor might have been concerned when captain Mawasi Charles was needlessly booked for a word out of turn to the referee's assistant.
However, today's script centred on Trinidad and Tobago national under-20 midfielder Matthew Woo Ling who debuted for St Anthony's College with two assists; although his triumphs at this level might be met with mixed emotions from local football fans.
Woo Ling made his Pro League debut with W Connection at 15 while he had two trials with England Premier League team Tottenham Spurs' academy. On Friday night, he was a late substitute as the young "Soca Warriors" whipped Haiti 3-0 to lift the Under-20 Caribbean Cup trophy.
Yet, while his national teammates like Levi Garcia, Kadeem Corbin, Aikim Andrews, Jesus Perez and Neveal Hackshaw are entering their second or third seasons as adult players, the 18-year-old Woo Ling transferred from Fatima College to St Anthony's for another taste of schoolboy glory.
If it is any consolation, he is fairly certain to get it at St Anthony's.
Woo Ling can look frustratingly casual at times and St Augustine did have some success, albeit limited, in hustling him off the ball. But St Anthony's undoubtedly possessed the ball better with the silky midfielder in its ranks and the fresh faced Green Machine must have sensed it was in trouble.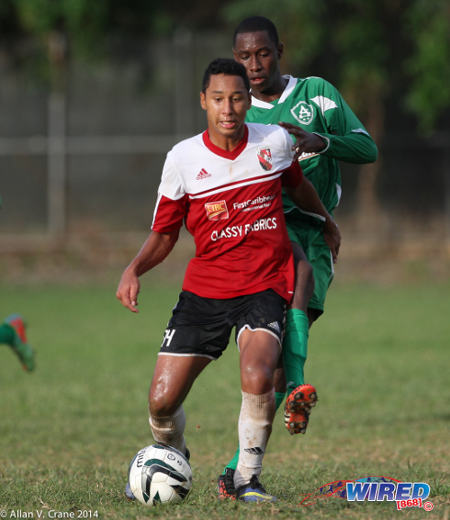 Credit to St Augustine's collective effort, which saw the host team still level at the break. But, five minutes into the second half, Woo Ling changed that.
Woo Ling won a free kick just outside the opposing penalty area and dusted himself off to spank an impressive curling effort that came off the underside of the bar and ricocheted off St Augustine goalkeeper Michael Logie for a corner kick.
Woo Ling took the corner too and Charles headed downward for Adriel Kerr to hook the ball past Logie for the opener in the 53rd minute.
It was time for Kwesi Allen to make his customary mark on the match. Allen scored a whopping nine times in his first four games and he gave St Augustine a taste of his speciality with a quickfire double in the 77th and 80th minutes.
The first came off Allen's favoured left boot from 22 yards as the St Augustine defence stood off. His second came with a stopping header from a Woo Ling cross after a flowing St Anthony's move.
Woo Ling, despite playing at half pace, made a good St Anthony's team seem almost invincible.
But fans of the technically accomplished midfielder, who once seemed tipped for higher things, might have hoped he was contracted to a more illustrious Premier Division team than the north zone school by now.
(Teams)
St Anthony's College (4-2-3-1): 1.Carlton Alfonso (GK); 2.Jared Flament, 23.Mawasi Charles (captain), 4.Isaiah McIntyre, 18.Simon Joseph; 6.Leon Whyle, 14.Matthew Woo Ling; 11.Adriel Kerr (21.Brent Joel 59), 8.Jules Lee, 9.Darius Olliveira (20.Yevan Rajpaul 82); 10.Kwesi Allen.
Coach: Nigel Grosvenor
St Augustine Secondary (4-5-1): 1.Michael Logie (GK); 17.Alexis Blackwell, 4.Ainsworth Grant, 5.Joshua Marshall (captain), 13.Romario Villafana; 7.Keishawn Marcellin (15.Nyamekye Martin 74), 12.Brandon Reyes, 14.Tyriq Alexander (11.Keno Samuel 81), 6.Jeremiah Taylor, 9.Anthony Samuel; 26.Kwinsi Williams (25.Jelani John 54).
Coach: Michael Grayson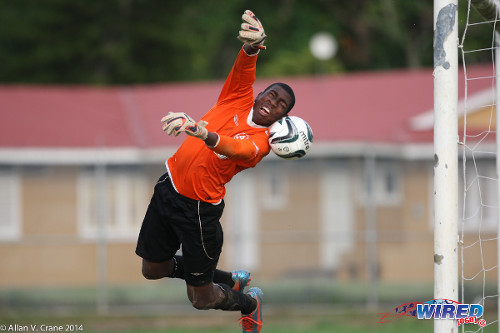 SSFL Premier Division results
(Sat Sep 20)
St Augustine 0, St Anthony's College 3 (Adriel Kerr 53, Kwesi Allen 77, 80) at St Augustine
San Juan North 3 (Jermell Britto 32, Brent Sam 72, 85), Shiva Boys HC 2 (Marvin Seuradge 45, Quinn Rodney 65) at San Juan;
Naparima College 6 (Stephon Smith 12, Nicholas Dillon 13, 45, Nicholas Thomas 51, Shane Sandy 84, Jeremiah Kezar 87), Arima North 1 (Joshua Alexander 2) at Lewis St, San F'do
St Mary's 1 (Aaron Noel 23), Carapichaima East 1 at St Mary's;
Fatima College 1, St Benedict's College 3 at Fatima;
Presentation (San F'do) 0, Trinity College East 3 (Deyshawn Edwards 23, Tyrik John 31, Atiba Lucas 82) at Guaracara Park;
Chaguanas North 2 (Louie Johnson 67, 69), East Mucurapo 1 (Ishaq Abdullah 91) at Chaguanas;
Upcoming fixtures
(Tue Sep 23)
St Anthony's v San Juan North, 3.45 pm, St Anthony's;
St Augustine v Naparima College, 3.45 pm, Larry Gomes Stadium;
Shiva Boys HC v St Mary's College, 3.45 pm, Guaracara Park;
Arima North v Fatima College, 3.45 pm, Arima;
Carapichaima East v Presentation (San F'do), 3.45 pm, Carapichaima;
St Benedict's College v Chaguanas North, 3.45 pm, La Romaine;
Trinity College East v East Mucurapo, 3.45 pm, Trincity.
Editor's Note: Please be advised that the September 23 SSFL Premier Division fixture between St Augustine Secondary and Naparima College has been moved to the Larry Gomes Stadium due to a sewer problem at the St Augustine school.