St Mary's College somehow left Trincity with its unbeaten SSFL Premier Division record intact this evening after an exciting 1-1 draw with Trinity College East in challenging conditions.
On a wet, soggy surface, Trinity's "Blue Hawks" pinned the "Saints" down for long periods but could deliver the knockout blow in an entertaining fixture.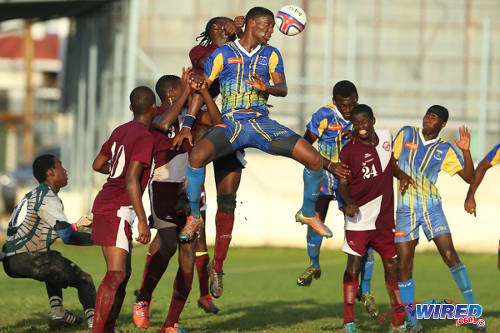 The result saw St Anthony's stretch its lead over second placed St Mary's to four points today as striker Kwesi Allen notched a hattrick in a 3-2 win over Shiva Boys HC at Westmoorings. Allen leads all Premier Division scorers with nine goals from his four outings.
Goals were at a premium in Trincity although both items came in the first half.
St Mary's opened the scoring through striker Chinua Bernard who beat Trinity goalkeeper Myron Mark with what appeared to be a misplaced cross in the ninth minute. But the Hawks clawed themselves back level, seven minutes from the interval, when an effort from the lively Kristian Meloney deflected off St Mary's midfielder Jean-Marc De Souza and into the top left hand corner.

Although there were no further goals in the contest, it was not for a lack of effort.
Bernard, who is St Mary's top scorer with four goals, came closest for the Saints with a strike from the edge of the area that Mark punched to safety in the 54th minute. But Trinity always looked more likely to score as the Hawks forced the Port of Spain school back on its heels.
Deep-lying playmaker Adrian Charles bossed the midfield with quick, precise passes to either flank while national under-17 forward Dereem Daniel and Tyrik John, the son of 2006 World Cup striker and Trinidad and Tobago's record scorer Stern John, threatened on top.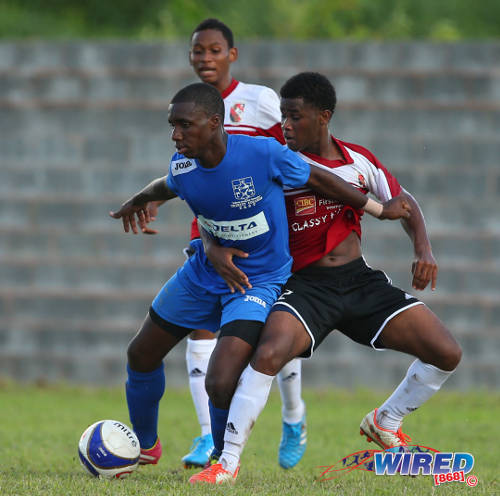 John, in particular, had a shoot on sight policy that seemed certain to decide the match in the dying minutes.
Somehow, St Mary's College goalkeeper Kristopher Donaldson extended an arm to pluck John's crack from the top left hand corner in the 89th minute. And, in stoppage time, St Mary's defender Siddiz Manzano successfully threw himself in the way of another left footed John blast as the visitors held on to their point.
At the final whistle, Trinity had slipped one place from fifth to sixth position while St Mary's watched the gap to leaders St Anthony's College widen to four points at the top of the table.
Anyone at Trincity today knows that it was a case of one point gained for St Mary's rather than two dropped, though. The Trinity Hawks are extremely protective of their nest.
(Teams)
St Mary's College (4-1-4-1): 1.Kristopher Donaldson (GK); 12.Siddiq Manzano, 5.Rickel Dixon, 4.Jerome Dempster-Babb, 2.Marcus Mottley (captain); 19.Jean-Marc De Souza; 7.Jamiel Williams (14.Johan De Souza 62), 10.Aaron Noel, 8.Ethan Shim, 11.Sebastien Cabral (20.Tyler Kirton 89); 9.Chinua Bernard.
Unused substitutes: 24.Nicholas Ramdin (GK), 6.Xavier Bruce, 16.Johnathan Bharat, 18.Bryant Van Low, 80.Howard Sabga.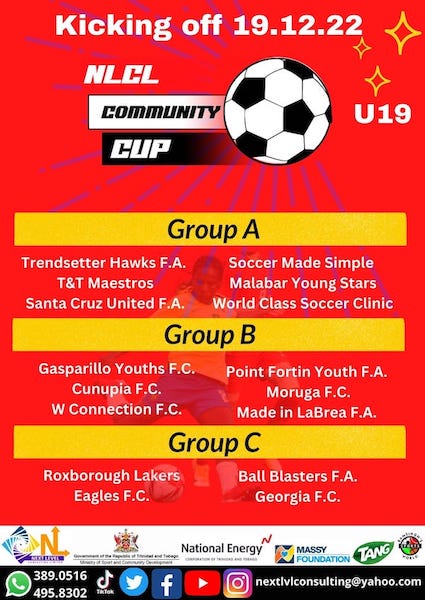 Coach: Junior Maxwell
Trinity College East (4-2-3-1): 1.Myron Mark (GK); 3.Lloyd Pierre, 4.Josh Romain, 21.Kendell Charles, 6.Daniel Sandy (16.Stephan Ealie 72); 8.Adrian Charles, 15.Taje Commissiong (captain); 10.Sean Bonval (25.Kishion Hackshaw 81), 7.Kristian Meloney, 31.Tyrik John; 19.Dereem Daniel (17.Edwards Deshawn 88).
Unused substitutes: 22.Emmanuel John (GK), 20.Atiba Lucas, 23.Michael Williams.
Coach: Adrian Romain
Referee: Rashy McPhie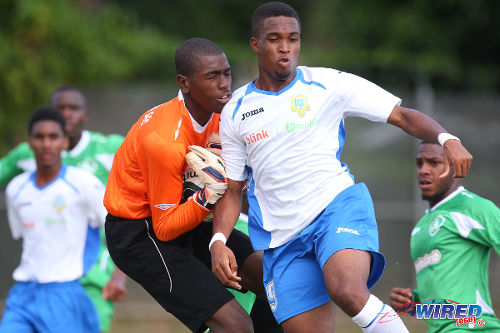 SSFL Premier Division results
(Wed Sep 17)
St Anthony's College 3 (Kwesi Allen [3 goals]), Shiva Boys HC 2 (Tequan Rodriguez, Kadeem Ashford) at St Anthony's;
Carapichaima East 2 (Jeremy Trim, Josiah Richards), San Juan North 1 (Benjamin McGyver) at Carapichaima;
St Benedict's 3 (Levi Crawford, Maxie Joseph, Anthony Herbert), Naparima College 0 at La Romaine;
Trinity College East 1 (Kristian Meloney 38), St Mary's College 1 (Chinua Bernard 9) at Trincity;
East Mucurapo 1 (Jair Edwards), Fatima College 1 (Kyell Lancaster) at Fatima;
Arima North 2, St Augustine 2 at Arima;
Chaguanas North 0, Presentation San F'do 3 (Quintel John 2, 85, Levon Bass 18 pen) at  Chaguanas;
Upcoming fixtures
(Sat Sep 20)
St Augustine vs St Anthony's, 3.45 pm, St Augustine;
San Juan North vs Shiva Boys HC, 3.45 pm, San Juan;
Naparima College vs Arima North, 3.45 pm, Lewis St, San F'do;
St Mary's vs Carapichaima East, 3.45 pm, St Mary's;
Fatima College vs St Benedict's, 3.45 pm, Fatima;
Presentation (San F'do) vs Trinity East, 3.45 pm, Guaracara Park;
Chaguanas North vs East Mucurapo, 3.45, Chaguanas;