2012 Caribbean Cup captain and Central FC goalkeeper Jan-Michael Williams will be one of five over-aged players in action with the Trinidad and Tobago national under-20 squad from 4 pm on Saturday when the teenaged "Soca Warriors" faces the Guadeloupe senior team in a friendly match at the Dwight Yorke Stadium in Bacolet, Tobago.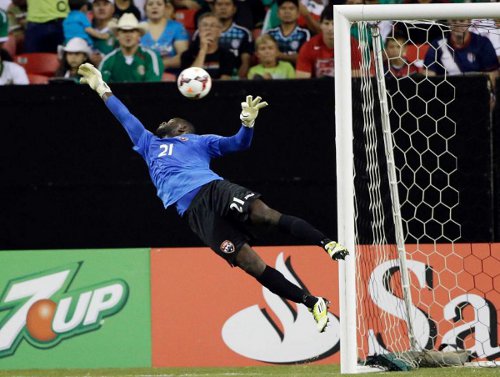 Williams, who was on a shortlist of CONCACAF's top ten goalkeepers for 2013, will help strengthen the team for a Guadeloupe assignment that was initially scheduled with the senior team in mind.
After being invited for a senior international clash, Guadeloupe was asked to play the Trinidad and Tobago under-20 squad instead as the Trinidad and Tobago Football Association (TTFA) due to the complex financial issues in summoning the senior players.
However, the national under-20 team, which is led by head coach Derek King, must share playing time with five footballers who are ineligible to line up alongside them when the Under-20 Caribbean Championship kicks off from September 12 in Trinidad.
Along with Williams, King selected Central FC midfielder Leston Paul, Mid-Continent University striker Keegan Bacchus and the DIRECTV W Connection pair of defender Mekeil Williams and midfielder Keron Boucher.

"We are bringing Jan in because of his experience," said King, who is also assistant coach for the senior national team. "The number one goalkeeper (from when this team was competing at under-17 level) Johan Welch will be coming in late because of school (in the United States). He will be joining the squad on the eighth of September.
"Jan, with his wealth of experience and leadership, will help assist our young goalkeepers in the training sessions and so on. So, I think he will be a plus."
King declined comment on the decision to use over-aged players in the first place, especially so soon to the under-17 competition.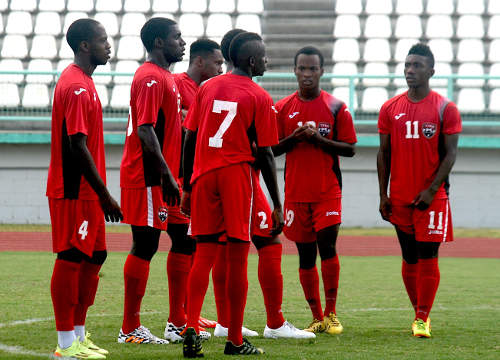 There was the suggestion, from a source who preferred to remain anonymous, that the Tobago House of Assembly (THA), which is footing the bill for the friendly, was displeased with the switch from an advertised senior Warriors team. The five drafted players were allegedly considered as a compromise.
Boucher, who recently joined Connection, is one of the Tobago's brightest talents and a hot prospect for the 2014/15 Pro League season. Head coach Stephen Hart, who is assisting the under-20 squad, also had a hand in call-ups for Bacchus, a former Vessigny schoolboy, and the 24-year-old Paul, who captained Trinidad and Tobago in two FIFA World Youth cups but is uncapped at senior level.
They will reinforce a youth team that includes Central teenagers Levi Garcia and Nicholas Dillon, St Ann's Rangers attacker Kadeem Corbin, Guaya United right back Marcus Ramkhelewan, United States-based midfielder Andre Fortune and new Connection recruits Akeem Garcia and Shannon Gomez.
The young Warriors are without former national under-17 captain and midfielder Brendon Creed and defender Leland Archer who left for scholarships in the United States while former free-scoring striker Brent Sam failed to keep his place after concerns about his work ethic.
King said the pre-tournament preparation has been good and the team produced decent results in friendly games against Super League and Pro League opposition.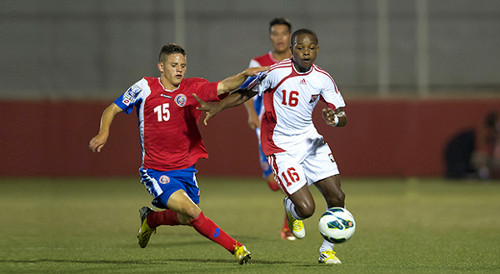 "There is a good mixture of players who are eager and the vibes in the camp is nice," said King. "We are stressing on them that this is the future of Trinidad football. They have to perform and qualify for us to help get sponsors on board for not just the under-20s but also the seniors.
"Personally, I feel it is a good bunch. There are some mature players for their age and they are picking up quickly and are willing to work."
King admitted that the under-20 team is short on talent from Tobago as the technical staff was never able to hold screenings there. He explained that he and assistant Dale Saunders tried to arrange sessions in Tobago but, due to late bookings, flights were unavailable while efforts to have handpicked players sent to train with the squad in Trinidad did not bear fruit.
The national under-20 squad leaves for Tobago on Friday and there might be insufficient time to look for new talent. However, King hopes the Trinidad and Tobago Football Association (TTFA) is able to keep the team in the sister isle until at least Monday so they can screen eligible Tobagonians.
Trinidad and Tobago squad to face Guadeloupe:
Goalkeepers: Jan-Michael Williams*, Javon Sample (both Central FC), Akeem Awong (W Connection);
Defenders: Josiah Trimmingham (San Juan Jabloteh), Martieon Watson, Shannon Gomez, Maurice Ford, Mekeil Williams* (all W Connection), Marcus Ramkhelawan (Guaya Utd);
Midfielders: Neveal Hackshaw (North East Stars), Kevon Goddard, Leston Paul*, Levi Garcia (all Central FC), Kishun Seecharan (Defence Force), Andre Fortune (Unattached), Matthew Woo Ling, Jabari Mitchell, Keron Boucher*, Akeem Garcia (all W Connection), Aikim Andrews (San Juan Jabloteh), Keon Joseph (North East Stars), Akeem Humphrey (Club Sando);
Forwards: Kadeem Corbin (St Ann's Rangers), Nicholas Dillon (Central FC), Jamoul Francois (North East Stars), Keegan Bacchus* (Unattached).