Presumably, the German footballers passed the World Cup trophy around at a good tempo with no unnecessary showboating or fumbles.
The 2014 World Cup belonged to the efficient, unrelenting Germans in the end. And the baby-faced assassin Mario Götze, who drew ire last year for ditching boyhood club, Borussia Dortmund, for fierce rival Bayern Munich, is now his nation's poster boy after steering home the only goal in the 113th minute of an enthralling final.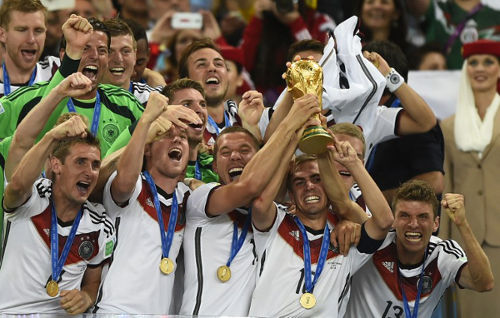 And Lionel Messi, the really talented Argentina footballer who could not walk on water, had to settle for a runner-up medal.
So what does that mean exactly?
Newly converted football fans wrote Mr Live Wire for answers that were sadly missing elsewhere in the mainstream press and social media:

Was Argentina punished for not having a proper team but just one really good player?
Götze's goal was the first that Argentina conceded in 443 minutes; so unless Messi played in central defence or goal, I suspect there were quite a few players responsible for Argentina's relative success.
How come Germany only scored once?
Because David Luiz does not have an Argentine passport.
Does this prove that Lionel Messi is overrated and flopped again?
Messi is only the player to win the FIFA Player of the Year crown four times and he was named the World Cup's best player, which is an accolade previously held by the likes of Diego Maradona (Argentina), Ronaldo (Brazil), Romario (Brazil) and Zinedine Zidan (France). He got on the MVP shortlist after being elected by a technical committee that includes former greats like Michel Platini (France), George Weah (Liberia) and Karl Heinz-Rumminegge (Germany).
Chances are they know a bit more about football than the guy with Kermit the Frog as his profile picture.
No question. I just want to say: Eat sauerkraut, Mr Live Wire! You are crap just like your beloved Argentina!
Hold on; let me get my fly swatter.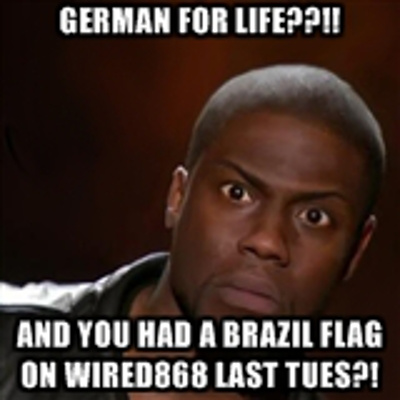 In some ways, Argentina was the surprise package of the World Cup. La Albiceleste was among the pre-tournament favourites; thanks to the offensive talents of not only Lionel Messi but Sergio Agüero, Gonzalo Higuain and Angel Di Maria.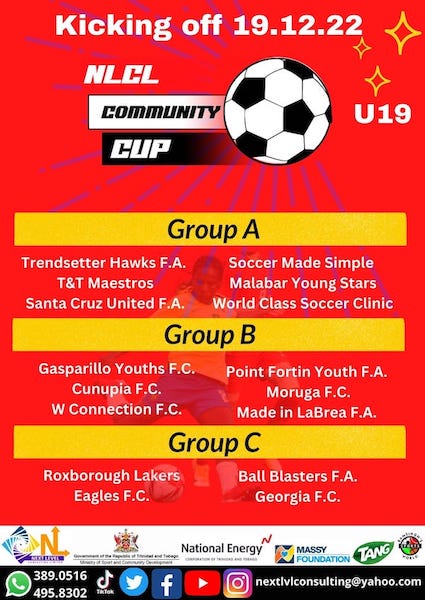 But it was Argentina's supposedly creaky defence that exceeded expectations as Higuain and Di Maria—the latter was injured in the quarterfinal—scored just once each while Agüero finished the tournament with less goals than Brazil's centre-forward impersonator, Fred, who also got one.
And, although analyst and ex-Trinidad and Tobago national youth team coach Keith Look Loy might disagree about Argentina's attacking endeavour, coach Alejandro Sabella played five different strikers over the course of 122 minutes today. And, far from a defensive manouevre, Sabella threw on a potent weapon when he introduced the slick-passing Fernando Gago in the 86th minute while Götze, who came on three minutes later for Miroslav Klose, was actually asked to throw an eye on him.
It was Germany who made the defensive change and not Argentina. But history would not remember it that way, particular after the 22-year-old Götze's superb winner.
Earlier, Higuain scoffed the best chance of the match in the 20th minute  and ended up with the foolish look of a guy who suddenly forgot his girlfriend's name while trying to introduce her to an ex. And Palacio's scooped miss in extra time was even worse.
Both teams ended with 10 attempts on goal but, shockingly, Argentina did not force a single save from Germany goalkeeper Manuel Neuer—although Neuer did leave his mark by blasting Higuain into next week as they challenged a loose ball.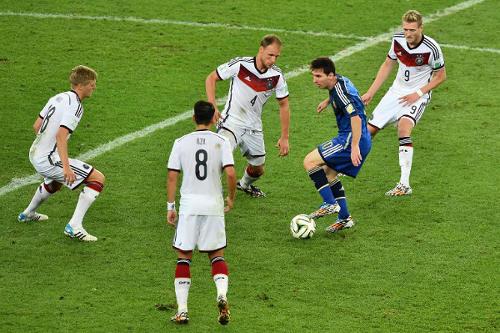 Germany, unsurprisingly, was not as wasteful; and that was the difference between dancing along to "Happy" after the final whistle or praying for the Maracanã Stadium to swallow you up.
German midfielder Bastian Schweinsteiger, who ended the match with stitches under his right eye, was a colossus while Jerome Boateng and captain Philippe Lahm were brilliant too as the attack-minded Europeans kept pawing away at their South American opponent.
Javier Mascherano and Marcos Rojo at the other end were defiance personified as they kept the Germans at bay while instigating potentially decisive Argentine counterattacks. But Argentina's millionaire attackers, all playing for high profile clubs at the best leagues in the world, could not deliver when it mattered.
Die Mannschaft could and did.
And, at the final whistle, tiki-kaiser replaced tiki-taka.
Today's World Cup action
Germany 1 (Mario Götze 113), Argentina 0
Star of the Match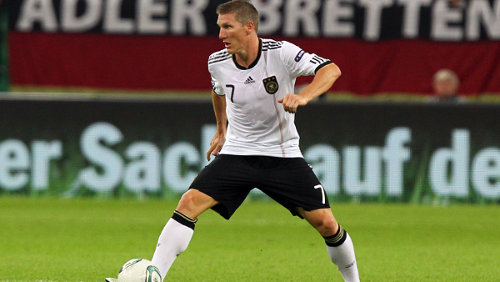 Midfielder Bastian Schweinsteiger wrote his name in German folklore today alongside the likes of Lothar Matthäus and Franz Beckenbauer.
One suspects "Universal Soldiers" might have ended very differently if Jean Claude Van Damme ended up going toe-to-toe with this "allgemein."
Villain of the Match
Argentina striker Rodrigo Palacio's only goal this year came in a friendly against Trinidad and Tobago. And, with all due respect to "Soca Warriors" custodian Jan-Michael Williams, Germany goalkeeper Manuel Neuer is a bit better.
So, the result of Palacio's improvised scooped finish in extra time today was depressingly expected.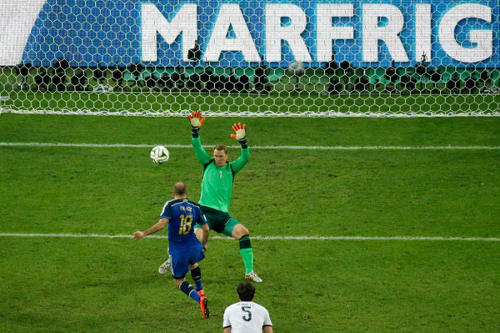 Let us just say that the Inter Milan striker's rat-tail hairstyle was not his worse decision this tournament. And that haircut would take some beating.