Show up at their World Cup venue. Get mauled. Repeat.
Costa Rica had its game plan drawn up by the rest of the world but, thankfully, "El Ticos" decided to go its own way; and the result has been spectacular.
Apart from a Spanish title defence that was shorter than the Red House fire, Costa Rica manufactured the genuine shock of the Brazil 2014 World Cup so far by treating the "Group of Death" like a stroll through the Hollows.
Yesterday, Costa Rica edged Italy 1-0 for its second successive win in Group D, which meant that the CONCACAF representative became the fourth nation to qualify for the knockout round after Netherlands, Chile and Colombia.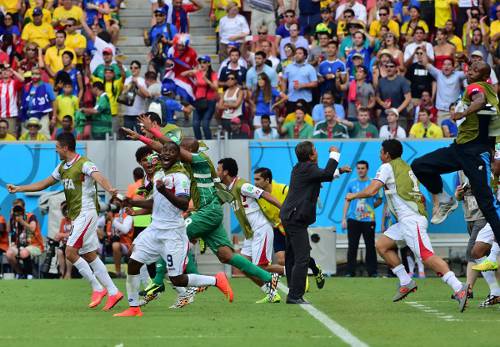 At the same, Costa Rica's success meant an early elimination for England who joins Cameroon, Australia and Spain in the departure lounge.

Honduras, another CONCACAF missionary, will probably be departing soon as well although the Central American nation at least showed that it can do more than kick opponents. Honduras led Ecuador through a Carlo Costly goal before ultimately falling 2-1 to the South Americans in Group E.
In the second Group E match, France battered another hapless opponent with an emphatic 5-2 win over Switzerland.
Let's just say that Karim Benzema and company are not the kind of guys you want to eyeball at a party. Switzerland, like Honduras in the opening round, never knew what hit them. In the case of Swiss defender Steve Von Bergen, that was quite literal. Von Bergen was forced to leave the field in the ninth minute after receiving an accidental boot in the face from France striker Olivier Giroud.
The forced substitution meant Switzerland was forced to pair former Arsenal rejects Johan Djourou and Phillipe Senderos at the back and no good could ever come of that.
Not that being rejected by an English team is the end of the world. The Costa Rican pair of Joel Campbell and Bryan Ruiz is proof of that.
Arsenal signed Campbell in 2011 and got him a work permit last year. And Arsene Wenger was so excited about his Costa Rican purchase that he used him all of zero times while preferring to loan him all over the place like an ugly jeans.
It was arguably even worse for Ruiz. His own club's supporters at Fulham was so uninspired by his languid playing style that they booed him all the way through the exit in the winter transfer window.
Revenge, of course, is best served cold.
And, after referee Enrique Osses inexplicably looked the other way while Italian defenders Giorgio Chiellini and Andrea Barzagli tried to make Campbell into a club sandwich, dropped him and then tried to bury his body, Ruiz popped up in the 44th minute to head home a goal that stunned Italy and eliminated England at the same time. Talk about killing two birds with one stone.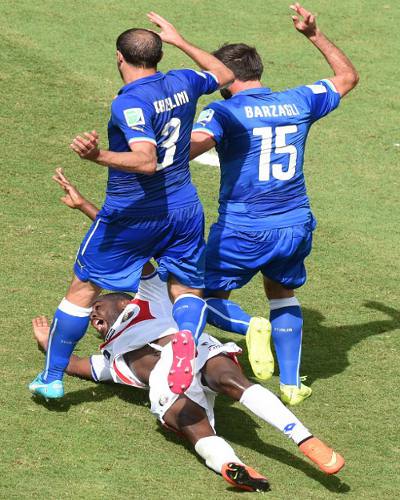 Italy and Uruguay must now play off for one available spot out of the group.
Campbell will live. England stars Steven Gerrard, Wayne Rooney and Frank Lampard probably won't make it though.
Can it get any worse for the Englishmen who were eliminated from the tournament after just two games?
Well, they face Costa Rica next.
Yesterday's World Cup action
Group D
Costa Rica 1 (Bryan Ruiz 44), Italy 0
Group E
France 5 (Olivier Giroud 17, Blaise Matuidi 18, Mathieu Valbuena 40, Karim Benzema 67, Moussa Sissoko 73), Switzerland 2 (Blerim Dzemaili 81, Granit Xhaka 87)
*–Benzema missed penalty in 32nd minute
Ecuador 2 (Enner Valencia 34, 65), Honduras 1 (Carlo Costly 31)
Star of the Day
Costa Rica captain Bryan Ruiz for securing a historic World Cup win over Italy that assured the "Ticos" of a place in the second round.
Villain of the Day
Chile referee Enrique Osses for looking the other way as Giorgio Chiellini flattened Joel Campbell inside the penalty area. With that sort of detection rate, Osses is definitely qualified to head the Trinidad and Tobago Police Service.