Referee Neal Brizan made it out of the Hasely Crawford Stadium in one piece last night; but only just.
And, if Brizan escaped physical harm, his earbells were surely ringing after his late call helped Central FC salvage a 1-1 draw from the penalty spot against North East Stars in Port of Spain.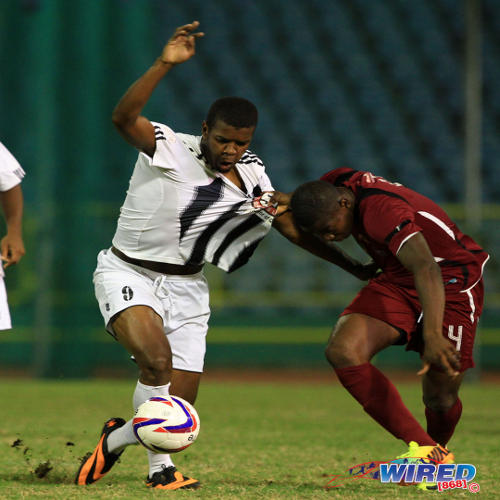 By the time the dust settled, two Stars officials and a player saw red while club owner and Jap's Chicken magnate, Darryl Mahabir, who had to be physically restrained as he confronted the match officials
"I thought the referee was shocking," Central coach Terry Fenwick told Wired868.
"Everyone was disgusted by the referee," said Stars coach Angus Eve. "It baffles me to know that Brizan is on the FIFA panel."

It might be the first time that Fenwick and Eve, who were head coach and assistant coach respectively at San Juan Jabloteh, agreed on anything in the last five years.
Earlier, in the Port of Spain double header, Caledonia AIA predictably had a more straightforward evening as the "Eastern Stallions" cruised to a 3-0 win over St Ann's Rangers.
Since Rangers chairman Richard Fakoory waved goodbye to experienced players like Conrad Smith, Keron Cummings and Dwane James in the January transfer window and started raided Port of Spain schools for replacements, the club has gone five games without scoring while conceding 10 times.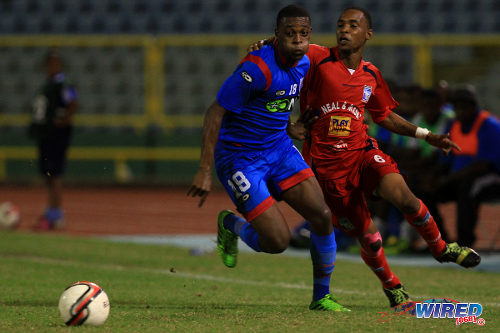 At this rate, it might be a matter of time before someone calls the child abuse hotline.
Yesterday, United States import Ralph Lundy Jr was the one to get his belt out with two goals and an assist for his Grenadian strike partner Kenron Frederick as Caledonia stormed to a three-goal lead within the first 33 minutes.
The result pushed Caledonia into third place and three points behind Point Fortin Civic who downed San Juan Jabloteh 2-0 today thanks to a Marcus Joseph double at the Mahaica Oval. Civic has played one game more than Caledonia.
Caledonia is now two points ahead of Stars and four ahead of Central although the latter two clubs both have a game in hand.
Central FC managing director and former 2006 World Cup defender Brent Sancho must have hoped for top draw football when he pushed through the signings of Ataullah Guerra, Jan-Michael Williams, Willis Plaza, Leston Paul, Jamal Jack, Elton John, Sean De Silva and Dwight Quintero this season. But this probably was not what he had in mind.
Last night was the fifth successive draw for the "Couva Sharks" who have managed just nine points from a possible 27 in their last nine games.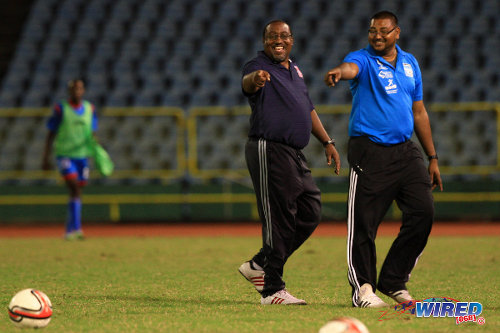 "We are not happy with the results," said Fenwick. "With the dominance, we have had in most of the games we have played; we want to turn them into wins…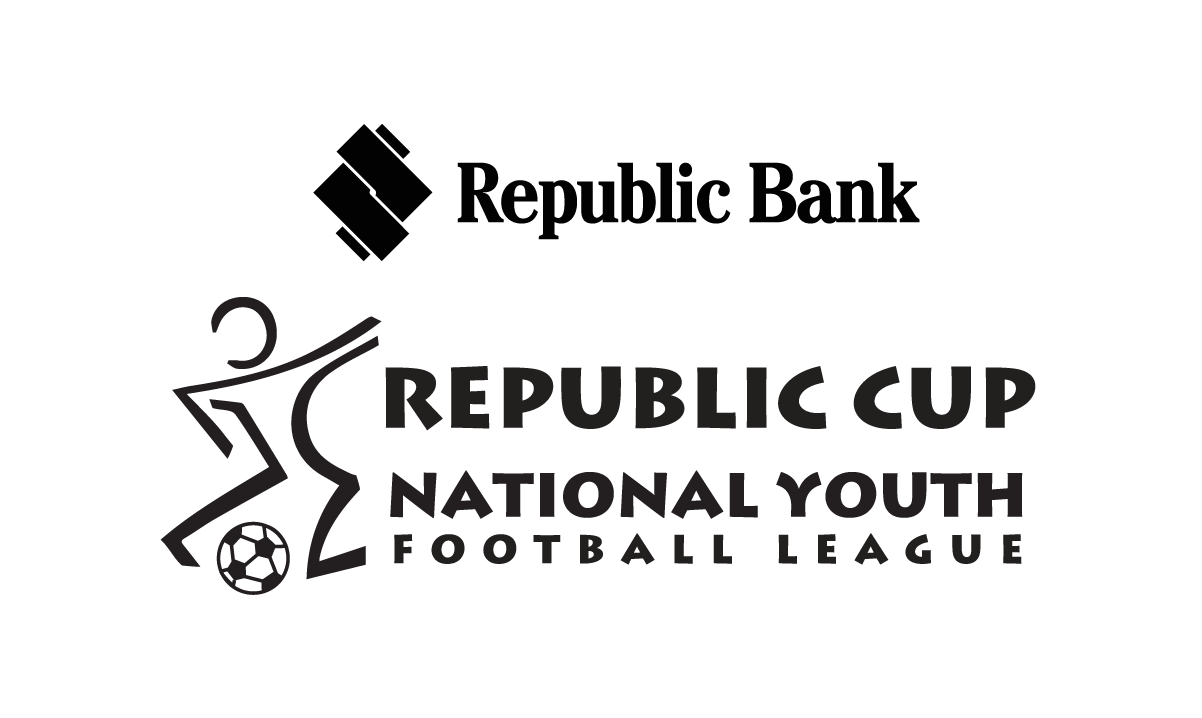 "We have had a big turnover of players who need to settle into the way we play and we have had some bad decisions against us."
Fenwick criticised penalties given against his team in clashes with Jabloteh and Civic. But, last night, it was Central's turn to benefit from a debatable decision.
Two minutes into stoppage time, Central substitute Rundell Winchester crumbled theatrically to the ground as Stars' makeshift right back Elijah Manners put an arm across him. And veteran 38-year-old Central captain Marvin Oliver converted the penalty to bring both teams square at the death.
"I was disgusted by the call," said Eve. "Anyone who knows me knows that I don't normally have those kind of outbursts… (But) the kids didn't deserve what the referee did and I told him what I felt about it."
Brizan ejected Eve and another technical staff member for their uncharitable sentiments while, after the final whistle, there was a red card for Stars' animated Jamaican midfield Keithy Simpson too.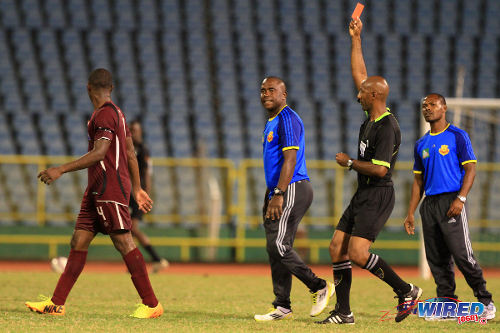 More serious, arguably, was the response from the Stars owner, Mahabir, who stormed on to the field to confront Brizan after the final whistle and the non-existent security for the officials.
"As poor as the referee was, it doesn't give them the right to abuse him like that," said Fenwick, who had his share of spats with officials himself. "It is out of bounds how abusive the owner was to all three officials. It is one thing to demonstrate dissatisfaction but we didn't abuse the referee the way they did."
It was easy to forget that there was an intriguing, if not exciting, contest for the 90 minute stretch that preceded Oliver's penalty.
In the four prior league meetings between Fenwick's Central and Eve's Stars, there was one win apiece and two ties between them. Yesterday's result was every bit as edgy.
"We knew all about them," said Fenwick. "(They are) one dimensional; they just sit very deep, they're organised at the back and rely on the pace of (Trevin) Caesar upfront."
Eve suggested that Central's line-up, which moved from 3-5-3 to 5-3-2 whenever Stars got possession, flattered his lone striker, Trevin Caesar.
"They changed to suit us which says a lot," said Eve. "That tells me something. They were terrified of Caesar."
The first 44 minutes was standard fare between the two clubs; tight and spiky with no goalmouth action but a string of crunching tackles.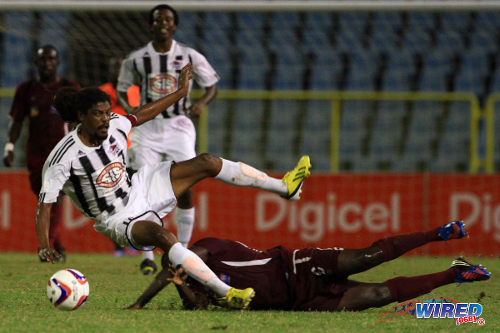 Oliver and Akeem Benjamin were booked for Central as was Stars midfielder Jeromie Williams.
Seventeen year old Arima North Secondary schoolboy Jesus Perez, who has impressed at left back with composed, solid defensive work, got into Brizan's notebook too with some style as he caught Jamal Jack with a lunge that sent the fearsome Central defender four feet into the air.
"He is a tremendous prospect," said Eve, who holds the record for appearances with the Trinidad and Tobago senior team. "He has no fear and his positioning and distribution of the ball is good. By trade he is a stopper but I just think he needs to learn the game a little bit more (before I use him there)."
It was Simpson who set the game alight though with a brilliant, backheeled flick into the far corner, seconds before the halftime interval, off a Kennedy Hinkson set piece.
It was potentially a telling strike. The Sangre Grande-based team has not conceded a goal or dropped a point after scoring first, since a 2-2 draw against Police FC on 16 March 2013.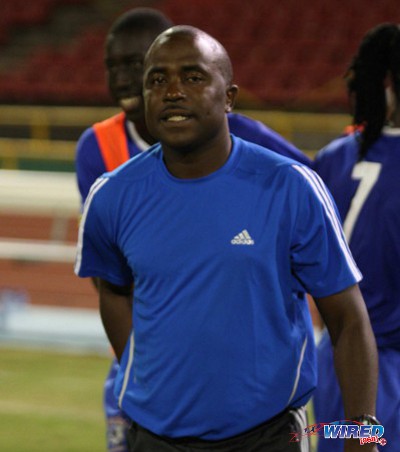 "I think we played well and created chances," said Fenwick. "But once they scored that is them solid and not moving out of the back third."
Fenwick replaced a defender, Benjamin, with winger Johan Peltier for the start of the second half and the offensive move did make things more difficult for Stars.
Plaza popped a header wide at the far post off a Jason Marcano cross in the 56th minute. And Central went even closer, four minutes later, as Peltier flicked on another Marcano cross and Quintero flung himself at the ball to steer it towards goal.
But 20-year-old goalkeeper Stefan Berkeley, who made his league debut in place of injured team captain Cleon John, somehow recovered to claw the ball away from the goalmouth. Central players pleaded, unsuccessfully, that Quintero's effort crossed the line.
At the other end, Caesar spun Elton John to finally break clear of the opposing defence in the 67th minute but then sent his shot wide of the far corner.
Simpson could have doubled Stars' lead too after being released by Cummings in the 76th minute but could not get his angled effort past Central goalkeeper Jan-Michael Williams.
Twenty year old attacker Rundell Winchester was brilliant for most of 2013, since he joined Central from Stokely Vale. But his form has dipped so dramatically over the past three months that Fenwick initially left him out of the team altogether last night.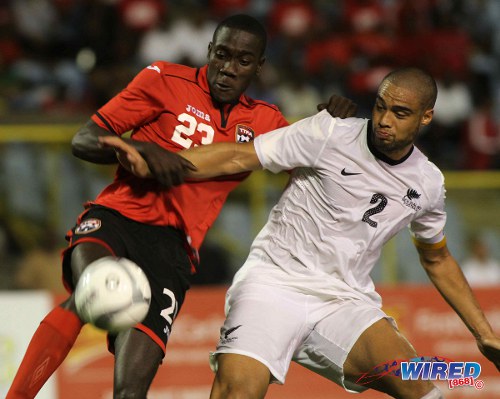 "Rundell Winchester has been very poor since his international call up (against New Zealand last October)," said Fenwick. "He hasn't performed anywhere near to his abilities."
But Winchester's replacement, 16-year-old Naparima College student, Nicholas Dillon, got stuck in traffic on his commute from San Fernando to Port of Spain. And, as Central struggled to find an equaliser, Fenwick sent Winchester on for Quintero.
And the Tobagonian won the controversial penalty sent the stadium into uproar.
"Our game plan worked to perfection," said Eve. "We stifled them from making any opportunities at all bar one. Caesar should have killed the goal off but didn't; and then the referee saw a penalty when no one did…
"Manners only brushed him; if that is a penalty then there would be a penalty after every corner kick in Europe."
Fenwick, surprisingly, sympathised.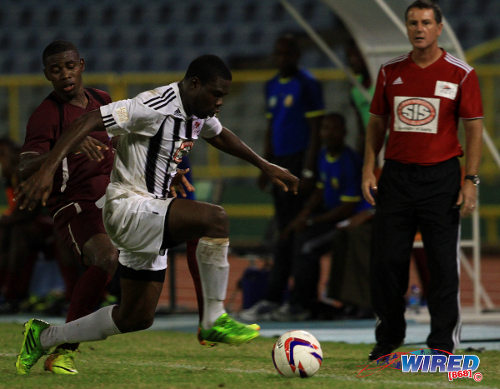 "We got fortunate with the penalty to get the draw really," said the Central coach. "I thought it was dubious although I was too far away to be sure.
"He was making so many bad decisions, it didn't surprise me to get it though."
The post-mortem of last night's clash should be very interesting. Not least because Pro League CEO Dexter Skeene surely has to make an awkward phone call to Mahabir.
Eve insisted that his colleagues should not be the only ones before the disciplinary committee.
"The referees are never held accountable," said Eve. "I might have to answer charges but not the referee. He will just send in his report for them to read and won't even need to be present.
"I think video evidence should be brought in when the referee makes those kinds of decisions."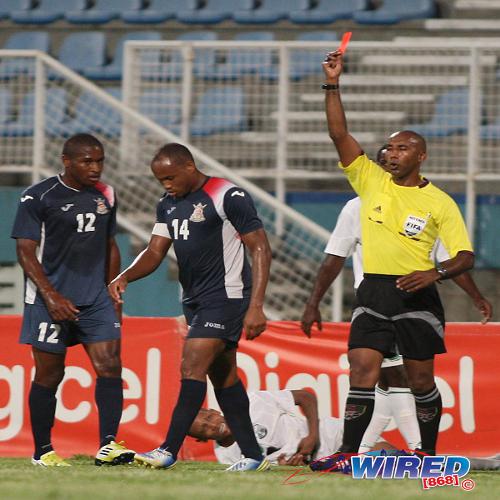 For now, the Stars team moves one spot up to fourth on the back of yesterday's point and has a game in hand over the second and third place teams.
One suspects the Pro League's disciplinary committee will have the final word, though.
(Teams)
North East Stars (4-2-3-1): 1.Stefan Berkeley (GK); 7.Elijah Manners, 5.Aquil Selby, 19.Glenton Wolfe (captain), 48.Jesus Perez; 6.Jeromie Williams 12.Jayson Joseph; 23.Kennedy Hinkson (11.Lemuel Lyons 82), 4.Keithy Simpson, 8.Keron Cummings; 20.Trevin Caesar (41.Neveal Hackshaw 85).
Unused substitutes: 22.Cleon John, 9.Akiel Guevara, 15.Chike Sullivan, 16.Franz Husbands, 18.Kaashif Thomas.
Coach: Angus Eve
Central (3-4-1-2): 21.Jan-Michael Williams (GK); 2.Elton John, 50.Yohance Marshall, 24.Akeem Benjamin (13.Johan Peltier 46); 12.Jamal Jack, 6.Leston Paul, 10.Marvin Oliver (captain), 27.Samuel Delice; 7.Jason Marcano; 9.Dwight Quintero (17.Rundell Winchester), 1.Willis Plaza (22.Keon Trim).
Unused substitutes: 25.Javon Sample (GK), 4.Sean De Silva, 11.Darren Mitchell, 18.Kevon Goddard.
Coach: Terry Fenwick
Referee: Neal Brizan
Pro League results
(Fri Feb 7)
Caledonia AIA 3 (Ralph Lundy Jr 9, 33, Denron Frederick 19), St Ann's Rangers 0 at Hasely Crawford
North East Stars 1 (Keithy Simpson 44), Central FC 1 (Marvin Oliver 90 pen) at Hasely Crawford
(Sat Feb 8)
Point Fortin Civic 2 (Marcus Joseph 41, 74), San Juan Jabloteh 0 at Mahaica Oval
[standings league_id=2 template=extend logo=true]