Twenty-nine year old Trinidad and Tobago midfielder Chris Birchall officially announced his retirement from international football today, which brought an end to an eight-year spell in the national red, black and white strip.
Birchall, who was a member of the recent 2013 CONCACAF Gold Cup squad, said his decision was motivated by a desire to re-invigorate his professional career with present England League One employer, Port Vale.
"I have thought long and hard about my decision and although it is a very difficult decision for me to make, I believe it's the correct one," said Birchall, via an email. "I would like to concentrate on my club football with Port Vale FC and give my best for the years I have left with them.
"I would like to take this opportunity to thank many people that have made my international career possible and colourful throughout."
Birchall, who was born in England to a Trinidadian mother, joined the "Soca Warriors" in 2005 after an approach by then Wrexham defender Dennis Lawrence. Lawrence asked Birchall if he had Trinidadian blood and the spiky midfielder replied "me mum", which immediately became his nickname on local football forum, SocaWarriors.net.

He went on to play 43 times for Trinidad and Tobago and his last cap came as a late substitute in last month's Gold Cup quarterfinal match against Mexico, which the Warriors lost 1-0.
Birchall scored four times for the Warriors and his most memorable strike came in the Germany 2006 World Cup qualifying campaign when his fine volley, on 12 November 2005, salvaged a 1-1 home tie against Bahrain in the Play-Offs. Four days later in the second leg, Lawrence headed in the winner from a Dwight Yorke corner as Trinidad and Tobago became the smallest nation to qualify for a senior FIFA World Cup tournament.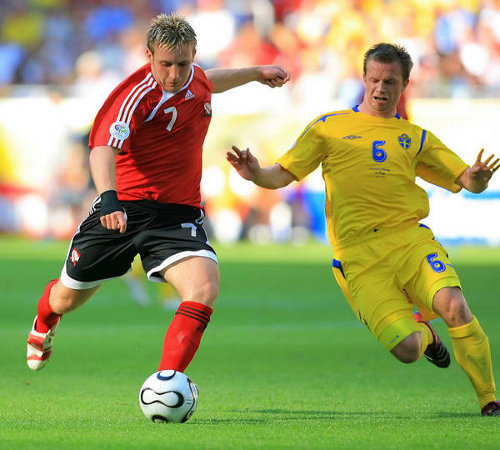 Birchall's future international involvement was, arguably, blighted by a bonus dispute between the World Cup players and the Trinidad and Tobago Football Federation (TTFF), which prompted an international ban on the midfielder for a year and a half and was the start of a bleak period for the national team. After 22 caps and three goals in his first year as an international player, Birchall made just 21 appearances with a solitary item in his next seven years with the Warriors.
His club career also stuttered as Birchall played for six clubs in as many years, including US Major League Soccer (MLS) teams Los Angeles Galaxy and Columbus Crew, before rejoining Vale as a free agent in January 2013.
Birchall withdrew his suit against the TTFF in 2008 and settled privately. He expressed his gratitude to former FIFA vice-president and Chaguanas West MP Jack Warner for the opportunity to represent the Warriors.
"Mr Jack Warner made it all possible for me and I will always be eternally thankful to him for introducing me to the start of my journey with the team," said Birchall. "He made me and my family very welcome to the country and gave my mother a chance to come home to Trinidad."
Birchall also thanked former TTFF liaison and football agent, Mike Berry, and his international coaches over the years, particularly World Cup 2006 coach and present Trinidad and Tobago Football Association (TTFA) director of football, Leo Beenhakker.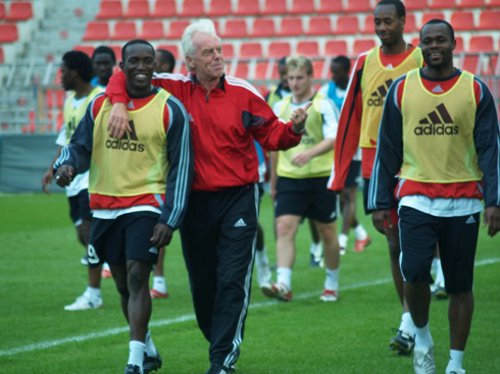 He singled out several of his former World Cup teammates too and TTFA administrator Peter Rampersad for their support and friendship over the years.
And there was a special acknowledgement to the Trinidad and Tobago public that he described as "the most important people of all."
"Never did I think I would be accepted in the manner of which I did," said Birchall. "The support I have received over the years has been phenomenal and I think it was made easier due to my fighting spirit and hard attitude on the pitch.
"It is hard to call it a day but if I have left just one historic memory with the fans then I have achieved much more than I ever dreamed imaginable with the team. I have always tried to give 100% on the pitch and give my all for the nation whenever called upon and wear the shirt with pride as I know how many people would die for my opportunity.
"So, with pride, I announce my international retirement and look forward to seeing future Soca Warriors represent the country under the special guidance of (our) coaches and TTFA president Mr Raymond Tim Kee."
TTFA president Raymond Tim Kee (on Chris Birchall's resignation):
"We would like to acknowledge the letter sent by Christopher Birchall indicating his decision to retire from international football and the national team. We at the TTFA, and I speak on behalf of the coaches, his teammates and the local fraternity, take this opportunity to wish Chris the very best for the future and his career at the club level. His services to our country's national team have been of tremendous significance and played a great role in our thrust forward. His goal in the opening leg of the playoff versus Bahrain remains etched in our minds."
Editor's Note: Click here to read Chris Birchall's retirement letter.