The "Soca Warriors" will have to do without the services of ace midfielders Khaleem Hyland and Kevin Molino for their quarterfinal clash against Mexico on Saturday July 20 for differing reasons.
Molino, who scored the second item in last night's 2-0 win over Honduras, is suspended after being cautioned in both outings this tournament against Haiti and Honduras.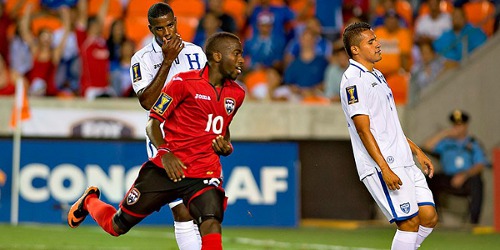 Hyland's absence is more controversial as he heads for Belgium to represent his employers, Racing Genk, in a fixture against Anderlecht on Sunday July 21 as a result of a verbal agreement between the Trinidad and Tobago Football Association (TTFA) and Genk.
It is, arguably, is another example of the mismanagement that has plagued the Warriors this year and it will leave coach Stephen Hart without his most dependable central midfielder for their toughest assignment so far.
The TTFA was late in requesting the services of its Belgium-based duo of Hyland and versatile defender Sheldon Bateau for the 2013 CONCACAF Gold Cup while the local football body did not get a visa for Finland-based playmaker Ataullah Guerra in time.

SV Mechelen turned down the TTFA's late application for Bateau outright. However, Genk allowed Hyland to join the Warriors on the assurance that he would be returned to play on  July 21.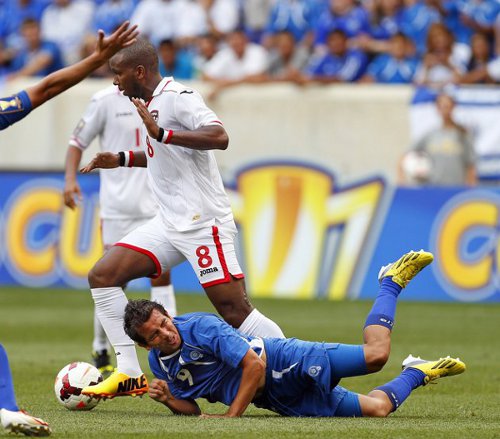 It means Hart must replace him with either the workmanlike Chris Birchall against Mexico or return to his former captain Densill Theobald, who lost his place to Andre Boucaud in last night's 2-0 win over Honduras. Ipswich Town winger Carlos Edwards is expected to stand-in for Molino.
There is precedent for such club-versus-country squabbles in mid-tournament.
At the 2000 Gold Cup, then Trinidad and Tobago coach Bertille St Clair was forced to play Costa Rica in the country's first ever quarterfinal appearance without team star Dwight Yorke, who was recalled by Manchester United in similar circumstances. The late Mickey Trotman saved the day with an extra time golden goal as the Warriors edged Costa Rica 2-1 to advance to the semi-final.
Still, Hart was happy to focus on last night's triumph for now and his first win as Trinidad and Tobago coach.
"It was a victory we wanted badly and one which we worked hard for tonight," Hart told the TTFA Media, "and I'm pleased more than anything else for the players.
"We made some changes to the team and the players on the field and the ones on the bench knew what the task was and they executed well."
The former Canada coach said he hopes the result augurs well for the future development of the squad.
"We took our goals well and I thought we were disciplined when we needed to be and we got the desired result," he said. "It's a significant victory for all of us and hopefully be a post to the process of change and development that the football is undergoing at this time."
The Warriors' stand-in captain, Kenwyne Jones, said their win showed the level possible by the present team as well as their ability to perform under pressure.
"It was fantastic win for us tonight," Jones added.  "We worked hard and we played well as a team. What we showed tonight is that we could lift ourselves up when the chips seemed down and this team can definitely become a force with more consistency at this level.
"I'm pleased we've been able to come out of the group stage for the first time in thirteen years."
Their next assignment will be a bit trickier without former Mucurapo schoolboys and teammates, Hyland and Molino.
Editor's Note: Original story updated to include suspension of Kevin Molino.