The Trinidad and Tobago Football Federation (TTFF) has a remaining shelf life of less than 24 hours.
The "Soca Warriors" play Estonia in an international friendly at Tallin from 1 pm tomorrow (8 pm Estonia time) and, at the final whistle, the national team's kit with the TTFF logo will be abandoned. And the Trinidad and Tobago Football Association (TTFA), which was incorporated by an Act of Parliament in 1982, will be back in business.
Next week, the TTFA will formally unveil its new name, logo and website. Wired868 understands that FIFA gave the go-ahead for the change yesterday and it will be the end of an era for the controversial TTFF.
The TTFA began officially referring to itself as the TTFF in 1992 under then newly installed president Oliver Camps and soon after former special advisor Jack Warner ascended to the post of CONCACAF president. The name change, at the time, came with a new constitution which significantly altered the power structure within the local game.
The TTFF constitution is also being reviewed and is set to be changed this year. The TTFF was not an official body for much of its existence although Camps registered the name as a sole trader business in 2006.

An old name might lead to another blast from the past as former 2006 World Cup coach Leo Beenhakker is mulling over an offer from TTFF President Raymond Tim Kee to return to Trinidad and Tobago football.
The former Netherlands and Real Madrid coach is expected to inform the local football body of his intentions next week.
Wired868 understands that the TTFF asked Beenhakker to assist in the area of technical development. However, neither party has ruled out a more hands-on role for "Don Leo"within the coaching staff if he is up the challenge and Tim Kee feels he can add value there.
At present, the national team is led by joint head coaches Hutson "Barber" Charles and Jamaal Shabazz who led the Warriors to second place at the 2012 Caribbean Cup and their first CONCACAF Gold Cup appearance in six years.
Trinidad and Tobago stand-in captain and Neal and Massy Caledonia AIA midfielder Densill Theobald, who started all three games at the Germany World Cup, was thrilled to meet Beenhakker before kick-off against Romania on Tuesday.
"I was shocked but thrilled at the same time," Theobald told the TTFF Media. "At first I couldn't believe it was actually him but he smiled and pointed at me and it brought back lots of memories from the 2006 campaign. We spoke a bit about the football and what he's been up to and he was also interested in finding out about us as well.
"I know there have been some rumours about him getting involved again with us but we didn't actually discuss that. But it felt great to be close to him again."
The Warriors lost 4-0 to Romania in Bucharest and Shabazz was dissatisfied with their defending from set pieces and their disinclination to press their opponents higher up the field. However, the Caledonia coach was happy for the stern test and the chance widen the team's talent pool.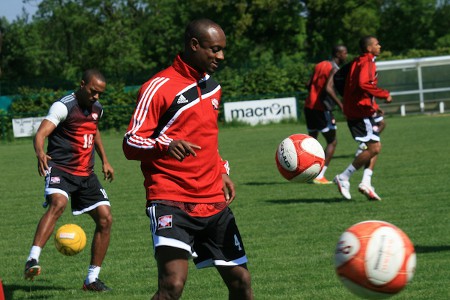 "We saw Justin Hoyte play a full 90 minutes and looked very encouraging," said Shabazz. "We saw Andre Boucaud also giving us something to look forward to with his performance and also players like Shahdon Winchester and Jamal Gay coming off the bench and offering us additional options."
After five games without a win or a goal at the right end of the field, the Warriors hope to get a result against Estonia tomorrow.
"I think we've got to get over the Romania loss," said England-based midfielder Andre Boucaud. "We had some good moments in the game and I really think the scoreline is a bad reflection of the game. But we lost and now we've got to lift our heads and move on from that.
"There's no other way to do that other than putting a good showing against Estonia and hopefully pull of a good victory."
Boucaud and Theobald are set to continue their partnership in central midfielder after Chris Birchall, another former 2006 World Cup player, was allowed to leave Tallin to meet his son, who, according to the TTFF press officer, fell ill and was taken to the hospital in England.
The late inclusions of Caledonia full back Aubrey David and North East Stars defender Kareem Moses into the squad means that Trinidad and Tobago will have 18 available players and a full bench tomorrow after being shorthanded for successive friendlies away to Peru and Romania.
Theobald said the Warriors will try to "entertain the fans" against Estonia, who he expects to be a physically strong and direct team.
"It's important for us to put in a strong performance and shake off the loss to Romania," said Theobald. "It was not the right result for us even though I thought the performance was not reflected in the scoreline…
"A lot of the people in Romania and Estonia know about our appearance in Germany in 2006 and so we've got to show something special on the pitch as well."
Next week, the TTFA will announce what it hopes to be a new dawn by dropping a controversial name and logo. It is possible that the 70-year-old Beenhakker might play a role in its fresh start.
(Trinidad and Tobago squad)
Goalkeepers: Jan Michael Williams (St Ann's Rangers), Marvin Phillip (Central FC);
Defenders: Justin Hoyte (Middlesbrough—England), Radanfah Abu Bakr (FC Vostok—Kazakhastan), Kareem Moses (North East Stars), Daneil Cyrus, Joevin Jones (both W Connection), Aubrey David (Caledonia AIA);
Midfielders: Andre Boucaud (Notts County—England), Kevin Molino (Orlando City—US), Ataullah Guerra (RoPS—Finland), Densill Theobald (Caledonia AIA), Darryl Roberts (Samsunspor—Turkey), Kevon Carter (Defence Force);
Forwards: Shahdon Winchester (FF Jaro—Finland), Jamal Gay (Caledonia AIA), Devorn Jorsling (Defence Force), Cornell Glen (North East Stars).
Technical Staff: Jamaal Shabaaz and Hutson Charles (co-head coaches), Derek King (assistant coach), Jefferson George (goalkeeper coach), Dave Isaac (physio/trainer), Michael Williams (equipment manager), Shaun Fuentes (media officer), William Wallace (manager), Peter Rampersad (assistant manager).
Editor's Note: The Trinidad and Tobago Football Association (TTFA) will be formally unveiled in a press conference on 1 July 2013.