The "Soca Warriors" should have reinforcements for their European tour after all as versatile Neal & Massy Caledonia AIA full back Aubrey David and North East Stars defender Kareem Moses were allegedly summoned yesterday by the technical staff of the Trinidad and Tobago national football team.
David and Moses should get to Bucharest tomorrow. Their late arrival means neither defender would be considered to face Romania and co-head coach Hutson "Barber" Charles and Jamaal Shabazz will still have just 17 players available for tomorrow's kick off.
However, the two Pro League players could feature when the Warriors play Estonia in Tallin on Friday.
David has been a regular feature in the Trinidad and Tobago squad since last November but was strangely overlooked for this trip.
If the Warriors could not afford to fly United States A' League defender Julius James though London or Port of Spain on Sunday, how can they afford return tickets for two players on Monday?

A football insider told Wired868 that the technical staff had the necessary funds to summon reinforcements but initially chose to remain shorthanded. The coaches presumably had a change of heart yesterday and assistant manager Peter Rampersad is credited with getting visas for both players in record time.
Thus far, Wired868 has been able to reach any member of the technical staff for comment on the mini-tour.
Team manager William Wallace handles all the senior team's finances although it is a responsibility that was thrust on him by Sport Minister Anil Roberts rather than by his employer, the TTFF.
The Ministry of Sport started writing all cheques to Wallace and not the football body during its impasse with former general secretary Richard Groden and marketing director Anthony Harford last year. And the practice continued even after Raymond Tim Kee became TTFF president last November.
Tim Kee and his new general secretary Sheldon Phillips are in Bucharest now after attending last week's FIFA congress in Mauritius. Phillips is understood to be considering a tougher line against players who will have to prove their injuries before being excused from national duty.
The Warriors are believed to unhappy at the absence of 22-year-old Kazakhastan-based defender Robert Primus. Primus, a former World Youth Cup defender, told Wallace last Thursday that he needed to have his knee checked out.
Conversely, Wired868 understands that Philadephia Union midfielder Keon Daniel was allowed to stay in the United States by the national coaches after the MLS club pleaded for his services.
There are roughly five weeks to go before Trinidad and Tobago's opening 2013 CONCACAF Gold Cup group match against El Salvador in New Jersey and the Warriors are desperate for momentum. However, a win in Romania would be highly unlikely even if a youthful Dwight Yorke was available for selection.
Shabazz told the TTFF Media that the Warriors' ambition will be to make things difficult for Romania. Romania is ranked 34th in the world by FIFA while Trinidad and Tobago comes in at 82nd.
"We know Romania will be difficult opponents but we've been through some difficult experiences so it's not new to us," said Shabazz. "We are here to try and make things difficult for Romania and at the same time improve our reputation. It's not so much about results for us at this stage but we would like to make a great impression and open doors for our football."
Middlesbrough defender Justin Hoyte is also fired up for his senior international debut for Trinidad and Tobago after representing England at youth level.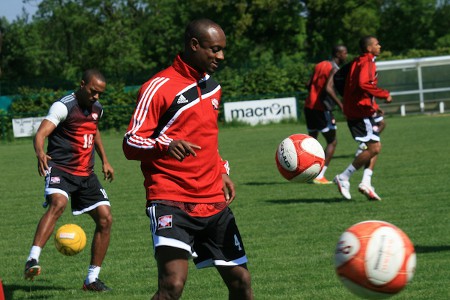 "It's been good to meet the new players and the players and staff have been really welcoming," said Hoyte. "I've enjoyed the training so far. I will be fully committed whenever I'm called upon to represent the country… As long as I'm healthy and fit I'd like to play as long as I can.
"It's a really big game to be making my debut. They are going to be a tough side… but it's something I'm really looking forward to and hopefully we can out on a good performance."
Trinidad and Tobago's international kicks off against Romania tomorrow at 1.45 pm (8.45 pm Bucharest time).