Trinidad and Tobago national football team co-head coaches Hutson "Barber" Charles and Jamaal Shabazz will have just 17 players—and only three specialist defenders—at their disposal for their toughest test of the year as the "Soca Warriors" prepare for away games against Romania on Tuesday June 4 and Estonia on Friday June 7.
Twenty-eight year old United States A' League defender Julius James, who plays for Carolina Railhawks, became the ninth player to be forced out of Trinidad and Tobago's European tour after travel issues today vetoed his efforts to join the Warriors.
The national technical staff only summoned James, a former 2001 Under-17 World Cup player, on Thursday evening after 22-year-old Kazakhastan-based defender Robert Primus suddenly withdrew from the squad. Primus supposedly informed the Warriors that he was "going for a medical appointment in Russia."
However, the only travel route available to James for Bucharest, Romania was through Paris, France and there was no time for him to get a visa.
Wired868 was reliably informed that the technical staff could have flown James via London but the cheapest obtainable ticket cost just over $50,000 and it was outside the team's budget for the tour.
The Trinidad and Tobago Football Federation (TTFF) is yet to find a major sponsor and Sport Minister Anil Roberts, unlike his predecessors, has preferred to fund the football body on a game-by-game basis rather than with an annual disbursement. It leaves the technical staff with little wriggle room when mishaps occur.
For the Warriors' trip to Peru in March, Charles and Shabazz were again down to 17 players as Defence Force striker Devorn Jorsling was suspended due to a red card against Belize while Philadelphia Union midfielder Keon Daniel belatedly informed management that he would not travel to South America. Trinidad and Tobago lost 3-0 to an under-strength Peru team in Lima.
Daniel declined the invitation to represent his country on this tour too along with Primus (FC Aktobe—Kazakhastan), Seon Power (Chainat FC—Thailand), Carlyle Mitchell (Vancouver Whitecaps—Canada), Hughtun Hector (Song Long Nghe—Vietnam), Khaleem Hyland (Racing Genk—Belgium), Sheldon Bateau (Mechelen—Belgium) and Carlos Edwards (Ipswich Town—England).
Power, Mitchell, Hector and Edwards ruled themselves out through injury while Hyland and Bateau supposedly said they needed the rest.
The Warriors trained with 15 players today for 80 minutes in 14 degrees Celsius temperature and light rain at the Baza Sportiva in Buftea, which is 23 kilometres north of Bucharest. Finland-based players Shahdon Winchester (FF Jaro) and Ataullah Guerra (RoPS) are due to join the squad tomorrow barring further catastrophe.
Tuesday's international friendly kicks off at 1.45 pm (8.45 pm Bucharest time) and Charles still hopes to make the most of the opportunity as the Warriors prepare for the July 2013 CONCACAF Gold Cup.
"The result matters, yes, and we would obviously want to come away with something good," Charles told the TTFF media, "but I'm more looking to see how the players react to our instructions and our approach in a match like this.
"More importantly I want to see some sign of chemistry developing and good understanding between the players both on and off the field. That is the purpose of a trip like this one at the moment."
If it is any consolation, the Romania team has its share of issues too.
Coach Victor Piturka dropped England Premier League defender Gabriel Tamas this weekend after the West Brom player was videotaped breaking into a dorm while apparently in a drunken stupor.
"I know they are on holidays but this is not good and I had to take the decision to exclude him from the line-up because of what happened," said Piturka.
The Romanian coach admitted that he knew little about Trinidad and Tobago and he was braced for a challenge.
"Trinidad and Tobago will not prove to be an easy opponent for us," said Piturka. "… I want to win but it will not be easy. We do not have much information on their team."
The Romanian team, which is ranked 34th in the world by FIFA, has excluded joint record high scorer Adrian Mutu but still has a strong line-up and will be heavy favourites.
In its last five home games, Romania scored 11 times with three victories over Belgium, Andorra and Australia, a draw against South American champions Uruguay and only one loss against the Netherlands. Romania managed a first half goal against every opponent but Uruguay.
Free-scoring 23-year-old La Liga midfielder Gabriel Torje (Granada) has scored in five of Romania's last eight games and should be a key player on Tuesday along with Schalke forward Ciprian Marica, Stuttgart midfielder Alexandru Maxim and West Ham United defender and team captain Razvan Rat.
The Warriors are boosted by international debutante and Middlesbrough defender Justin Hoyte while the DIRECTV W Connection pair of Daneil Cyrus and Joevin Jones and the Finland-based duo of Guerra and Winchester are also in good form.
Jones, who has been the Pro League's most outstanding midfielder in the 2012/13 season, is expected to continue at left back for his country.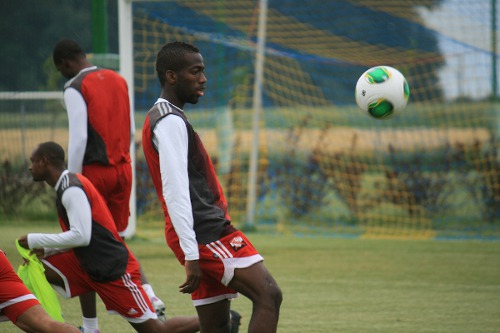 Trinidad and Tobago travels to Tallin on Wednesday for its second and final fixture of this tour on Friday. Another injury or suspension might force the 47-year-old Charles, a former "Strike Squad", to put on national gear himself.
(Teams)
Trinidad and Tobago:
Goalkeepers: Jan Michael Williams (St Ann's Rangers), Marvin Phillip (Central FC);
Defenders: Justin Hoyte (Middlesbrough), Radanfah Abu Bakr (FC Vostok), Daneil Cyrus, Joevin Jones (both W Connection),
Midfielders: Andre Boucaud (Notts County), Chris Birchall (Port Vale), Kevin Molino (Orlando City), Ataullah Guerra (RoPS), Densill Theobald (Caledonia AIA), Darryl Roberts (Samsunspor), Kevon Carter (Defence Force);
Forwards: Shahdon Winchester (FF Jaro), Jamal Gay (Caledonia AIA), Devorn Jorsling (Defence Force), Cornell Glen (North East Stars).
Co-head coaches: Hutson Charles and Jamaal Shabazz.
Romania:
Goalkeepers: Bogdan Lobont (AS Roma), Silviu Lung jr. (AFC Astra);
Defenders: Alexandru Matel (AFC Astra), Srgian Luchin (FC Dinamo București), Nicolai Goian (Spezia Calcio), Marius Gaman (AFC Astra), Răzvan Rat (West Ham United), Alexandru Vlad (CS Pandurii Târgu Jiu);
Midfielders: Gabriel Torje (Granada), Aurelian Chitu (FC Viitorul), Constanța Lazar (PAOK Salonic), Dan Nistor (CS Pandurii Târgu Jiu), Nicolae Grigore (FC Rapid București), Ovidiu Hoban (FC Petrolul Ploiești), Alexandru Maxim  (VfB Stuttgart), Adrian Stoian (AC Chievo);
Forwards: Bogdan Stancu (Orduspor Kulübü), Gheorghe Grozav (FC Petrolul Ploiești), Ciprian Marica (FC Schalke 04).
Head coach: Victor Piturka.
Warriors' Europe tour
Trinidad and Tobago versus Romania, June 4, Bucharest National Arena, (1.45 pm)
Trinidad and Tobago versus Estonia, June 7, Tallin.