AC Milan's chances of securing a Champions League spot for next season, let alone staying in the Serie A title race, could be dealt a serious blow with reports that star Italy international striker Mario Balotelli could miss Saturday's league fixture against Lazio with a back strain.
He may not be the only absentee either. It's an epidemic. Defender Cristian Zapata is out with a back injury too, which is particularly relevant as Philippe Mexes is suspended.
It is ditto for midfielders Sulley Muntari and Kevin-Prince Boateng and attackers Robinho and Mbaye Niang while Nigel De Jong will not return from injury after all.
It would certainly be odd, wouldn't it? But then back injuries are a special treat since scans do not pick them up.
You just wince, point at your back and then grimace and nod solemnly at the right times during your subsequent check-up with the club physician. It is the equivalent to the doctor's note that said you felt unwell on Monday when half the staff was similarly affected at the same time the union's efforts for better work conditions stalled.
Incidentally, the spate of back injuries closely follows news from Italy that Inter Milan was fined €50,000 (TT$417,000) for abusing Balotelli with racist chants, banners and inflatable bananas throughout the recent Milan derby. Curious timing, eh?
Rudd Gonzales, the owner of my preferred barbershop Cuts R Us, lobbed the idea of a sick-out to me last week and there was a simplicity to it that appealed.
You see no one is ever really held accountable for robbing "black players" of the right to work without the denial of a basic human right. (I consider the term "black players" to be an anachronism but there is no doubt about the difference in working conditions for players according to ethnicity).
Poor Inter Milan owner Massimo Moratti; it can't be his fault, could it? He even asked fans not to racially abuse Balotelli and wouldn't you believe they did it anyway. Despite his premonition, Inter stewards were probably caught unawares by the inflatable bananas and stunned into inactivity. Whatever can you do with unruly house guests but wait for them to leave, right?
And the Serie A officials are no doubt constrained by existing rules for this sort of thing as they passed judgment. The same laws that are never changed despite this thing happening a couple times a season.
The players' union would surely look into it. It is probably creating fliers as we speak; those always help.
Milan coach Massimiliano Allegri praised Balotelli's response. He took his abuse like a real man, I suppose. No fits or storming off the field or calling the police or anything.
Now let's get ready for the next match, right? These things happen. Just like ill-timed back injuries.
The rest of Europe does not get off the hook, mind you.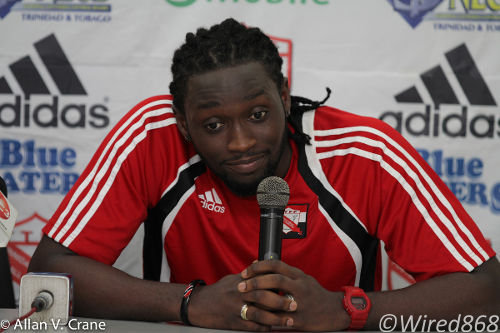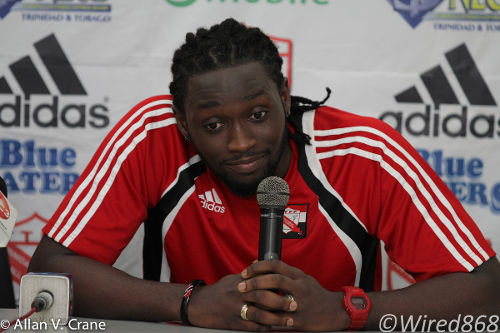 Not when a legitimate question to Liverpool coach Brendon Rogers, before a Europa League tie at Zenit St Petersburg, is whether he would risk subjecting his "black players" to an unashamedly, unenlightened crowd. Or when Barcelona and Brazil right Dani Alves says he lost count of the number times he was greeted with monkey noise in Spain.
Bear in mind too that Trinidad and Tobago has over a dozen football players based in diverse European locations from England and Scotland to Kazakhstan, Finland, Belgium and Turkey.
And our tiny Caribbean nation has regularly supplied players to Europe for the past three decades since the successful first wave of exports, which included David Nakhid (Belgium, Switzerland and Greece), Dwight Yorke (England), Russell Latapy (Portugal and Scotland), Leonson Lewis (Portugal), Clint Marcelle (Portugal and England), Shaka Hislop (England) and Jerren Nixon (Scotland and Switzerland).
UEFA president Michel Platini is too busy fighting off billionaire owners that supposedly threaten the traditional power structure of the game by challenging for trophies to be too bothered with the issue of race that affected them all as well as thousands of other players.
Four nations at the UEFA Euro 2012 were fined because of the racist activity of their fans: Germany, Spain, Croatia and Russia. Croatia received the largest fine of €80,000 (TT$665,000) for insults and monkey noises at Balotelli while Spain paid €19,000 (TT$158,000) for the same offence, presumably with less gusto.
In contrast, UEFA fined Denmark striker Nicholas Bendtner €100,000 for displaying the name of an Irish bookmaker after scoring.
But then Platini does not even pretend to have the dignity of "black players" prominent on his to-do list. His UEFA placed the Euro tournament in diversity-challenged Poland while the French former football great insisted that any player who walks off the field due to racist taunts must be punished by match referees.
And what do the various European nations, who all have a vote, do about it? Oh, someone from the FA is going to raise it at the next conference right after lunch, you say?
Great news. That's why the back plague will not be contained to Italy this weekend.
If you play in a nation that is a part of UEFA and you are not satisfied that enough is being done to allow you to work without you and your loved ones being subjected to dehumanizing insults and intimidation; then I think your back is acting up too.
Sorry, Sir Alex Ferguson, but you will have difficulty finding wingers to face Norwich. Antonio Valencia, Ashley Young, Nani and Danny Wellbeck are all out. And Manchester United's defensive options would be light too without Rio Ferdinand, Patrice Evra and Chris Smalling.
Manchester City might struggle too with midfield colossus Yaya Toure while goalkeeper Joe Hart may feel a bit drafty without the protection of defenders Vincent Kompany, Joleon Lescott, Kolo Toure, Micah Richards, Maicon or Gael Clichy.
It is an all-inclusive "back to black" party, by the way. Liverpool star Luis Suarez has made a big show of his supposedly diverse ethnic make-up; so no one would begrudge him joining Daniel Sturridge, Glen Johnson and Raheem Sterling in sick bay.
And what better way for Chelsea captain John Terry to show his support than delaying his comeback for another week?
The spate of back injuries will surely affect the win bonuses for players of all ethnicities who must compete without richly talented teammates. Some teams might be three points further from the title or closer to relegation. Not to mention the loss of entertainment value for even casual fans and reporters.
But there are casualties in every strike. Surely, the long-term emotional and mental relief at stake for the likes of Balotelli, Arsenal's Theo Walcott and Trinidad and Tobago's Belgium-based midfielder Khaleem Hyland is worth three points.
Think about the players in your own favourite team who might benefit or those you would miss if they opted to withdraw their services.
Perhaps a reminder of what "black players" bring to the game would be enough to kick off more serious discussion among the relevant representatives from the unions and clubs to the football associations and confederations.
That is hardly a revolution, is it?
The officials and stakeholders have failed the "black players"; it might be time for them to back themselves.
Editor's Note: This article is the first in our new fortnightly sport column entitled SportWired, which will discuss local and international sport related issues.