Neal & Massy Caledonia AIA will defend its TTFF FA Trophy crown in the 2013 finals. The "Eastern Stallions" booked their place in the knock out final tonight as they recovered from a single goal deficit to edge North East Stars 2-1 at the Ato Boldon Stadium, Couva.
Caledonia will meet Central FC in the FA Trophy final, which is expected to be held in March.
The Morvant/Laventille-based club won three domestic Cup titles last season along with the Caribbean Club Championship crown and has already lifted the First Citizens trophy in the 2012/13 season.
In contrast, Central which is in its debut season, failed to win a single match in the First Citizens and Toyota Classic competitions before finally enjoying some momentum in the FA tournament.
Stars won the Toyota Classic last December but did not seem quite as enthusiastic about the FA.

Cornell Glen's recurring hamstring problems mean Stars coach Angus Eve is unwilling to risk using him for more than one game a week. And Eve opted to Glen tonight off to keep him fresh for Monday's Digicel Pro League clash against DIRECTV W Connection.
As reported by Wired868, there is no prize money at stake in the FA competition. But the lure of Cup final meant there was still plenty of enterprise from either team tonight.
Caledonia started with something resembling a full strength team.
St Vincent and the Grenadines attacker Cornelius Stewart has also recently left the Stallions for a trial in Finland, which took the number of Caledonia's globe-trotting first team players into double-figures.
Coach Jerry Moe reacted to Caledonia's 5-1 weekend League loss against Defence Force by replacing goalkeeper Glenroy Samuel with Grenadian custodian Shemel Louision while wingers Qian Grosvenor and Vurlon Mills made way for Akim Armstrong and Abdallah Phillips.
Caledonia started brightly enough tonight and nearly managed an opener in the 13th minute as Stars goalkeeper Adrian Foncette awkwardly fended away a deflected Keyon Edwards effort with his legs. Foncette deputised for team captain Cleon John while former national attacker Gary Glasgow, in a rare outing, wore the armband.
North East roared back though and the Stallions might have been fortunate to be level at the halftime break.
Louision gave a glimpse of his potential with a fine left-handed reflex save to deny Kerry Baptiste in the 22nd minute while a goalward Kareem Moses header in the 41st minute struck his teammate Kaydion Gabriel and bounced to safety.
The interval brought only temporary relief for Caledonia. Two minutes into the second half, Stars went ahead through Glen's replacement, Elijah Manners, who produced a controlled, sidefooted finish at the near post off a left side Kevon Villaroel cross.
Twice, the Sangre Grande-based team came close to doubling its advantage and Glasgow was the architect on both occasions.
In the 50th minute, the veteran flanker stripped lanky Caledonia defender Akeem Thomas and slipped to Manners whose cross was turned towards goal by Baptiste. But Louision was equal to the task as he tipped the ball over for a corner.
Eight minutes later, the Stars trio combined again as Glasgow released Manners behind the Caledonia defence and he squared for Baptiste near the opposing penalty spot. As Baptiste mentally picked his corner, Caledonia right back Kareem "Tiny" Joseph nipped in to make a crucial interception.
Moe turned to his bench for help with a double change that meant a debut for new Argentine signing Miguel Romero, who slotted into a central midfield role. But it was the other Caledonia substitute, Nathan Lewis, who had a more immediate impact though.
A neat one-two between Lewis and Edwards initiated a move that lead to Caledonia's equaliser in the 69th minute as Stars failed to clear the danger and Sheldon Holder latched on to a loose ball in the area to finish confidently to Foncette's right.
It was Holder's fifth goal of the season and four of them have come in knock out competition.
Eve's plans were further hit in the 73rd minute as Villaroel was stretchered off with what appeared to be a back injury and was replaced by utility player Jayson Joseph. While Moe made his third and final change in the 77th minute when he introduced Sherron Joseph, Tiny's younger brother, at Holder's expense.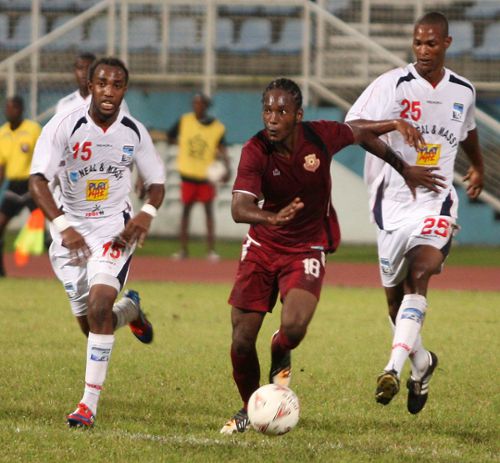 The two Joseph substitutes played a crucial role in deciding the FA semifinal. Not that the Stars substitute would care to remember his part in the eventual winner.
Jayson usually plays in midfield but Villaroel's injury meant that he was needed at left back. His imitation of a defender left a lot to be desired, though, as he tried to saunter up the flank and was stripped by Edwards, midway in the Stars half of the field.
Edwards, who came to prominence as a Trinidad and Tobago international last year, quickly passed to Caledonia captain Stephan David who relayed the ball to Sherron. And, with his first touch, Sherron smashed his effort brilliantly into the top right hand corner.
Two minutes froam time, Stars almost conjured up an unlikely equaliser.
Louision flapped unconvincingly at a long ball and Stars winger, Gabriel, took aim and contorted his body to volley home the awkwardly bouncing sphere. Thomas nudged him ever so slightly but it was enough for the Stars winger to miskick and tumble over in a heap.
Referee Rodphin Harris put the whistle to his lips. And then changed his mind and shook his head dismissively.
The Stars technical area erupted in anger.
Sherron almost added salt in their wounds in added-on time as he collected from Edwards and ghosted past Moses before uncorking a left footed effort from just inside the Stars' penalty are that almost uprooted the bar before rebounding to safety.
The damage to Stars' FA ambitions had already been done, though. And Caledonia will play Central for their title in the final.
(Teams)
Caledonia (4-4-2/4-3-3): 1.Shemel Louision; 12.Kareem Joseph, 4.Colin Nelson, 20.Akeem Thomas, 2.Aubrey David; 17.Akeem Armstrong (22.Miguel Romeo 61), 7.Stephan David (captain), 9.Keyon Edwards, 11.Abdallah Phillips (27.Nathan Lewis 61); 6.Trevin Caesar, 28.Sheldon Holder (18.Sherron Joseph 77).
Unused substitutes: 33.Glenroy Samuel, 14.Elvis Thomas, 24.Shemol Trimmingham, 26.Vurlon Mills
Coach: Jerry Moe
North East Stars (4-1-4-1): 1.Adrian Foncette; 23.Kennedy Hinkson, 2.Kareem Moses, 3.Charles Pollard, 5.Kevon Villaroel (17.Jayson Joseph 74); 6.Jeromie Williams (25.Keryn Navarro 67); 12.Gary Glasgow (captain), 16.Jean Luc Rochford (18.Kaashif Thomas 62), 4.Kerry Baptiste, 15.Kaydion Gabriel; 7.Elijah Manners.
Unused substitutes: 22.Cleon John, 21.Shane Hospedales, 24.Keithy Simpson, 10.Marcus Gomez.
Coach: Angus Eve
Referee: Rodphin Harris
TTFF FA Trophy Semifinal round
Caledonia AIA 2 (Sheldon Holder 69, Sherron Joseph 79), North East Stars 1 (Elijah Manners 47) at Couva