The Wired868.com online newspaper served up a treat for football fans on 9 January 2013 with the inaugural Wired868 Football Festival at the UWI SPEC ground in St Augustine.
An exhibition match between a Wired868 XI and an Earl "Mango" Pierre XI was the highlight of the evening and ended in a 2-2 draw.
Former "Strike Squad" and Boavista striker Leonson Lewis scored twice for Wired868 and produced some dazzling touches to win the Most Valuable Player award of a weekend for two at the Cascadia Hotel in St Ann's.
The evening's MVP was selected by a three man panel that comprised of Trinidad and Tobago national co-head coach Jamaal Shabazz, Guyana and North East Stars defender Charles Pollard and former World Cup linesman Merere Gonzales.
The Mango XI did not roll over though and pulled level through a penalty from former Queen's Park playmaker Ricardo Aleong and an item from former Belmont Secondary stand-out Marvin Joseph.

The Football Festival stated its intention to bring out the country's stakeholders in the support as well as the icons who contributed to Trinidad and Tobago football's glory days. They do not come much bigger than former football legend and Strike Squad coach Everald "Gally" Cummings, who remains the only footballer to be named Trinidad and Tobago's Sportsman of the Year.
Trinidad and Tobago Football Federation (TTFF) president Raymond Tim Kee, Pro League CEO Dexter Skeene and Veteran Footballers Association president Selby Browne were present too as well as a few dozen football fans scores of past players and present coaches.
National technical director Anton Corneal, joint head coach Hutson "Barber" Charles, ex-Strike Squad captain Clayton "JB" Morris, Central FC coach and former England World Cup defender Terry Fenwick, former national stand-out Ron La Forest, 1991 Under-20 World Cup defender Roger Henry and present "Soca Warrior" Carlyle Mitchell were among the Wired868 players.
World Cup 2006 defender Brent Sancho, Caribbean Cup winner Kerwin "Hardest" Jemmott and former US Major League Soccer (MLS) attacker Darin Lewis were among the more notable players in the Mango XI.
The game itself was keenly contested.
But, more importantly, it was played in the spirit of camaraderie.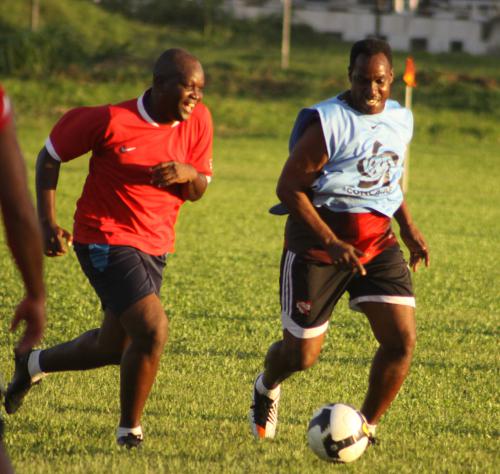 Wired868 wishes to thank all its forumites who came out to enjoy the evening's proceedings.
And, of course, the football fans.
Due to the overwhelming response from players, there is likely to be two exhibition matches at the second Football Festival.
Special thank you as well to sponsors like Carib, Cascadia Hotel, Easi-Pharm, Sasha Cosmetics and Fairy Sweet as well as the University of the West Indies for providing a venue.
And our Football Festival organisers Indra Ramsingh-Geoffroy, Roger Ekow Watts, Lou-Ann Sankar, Jeffrey Edwards and Arlene Yasmine Paul.
And, most of all, thanks for the participants who made it a great time.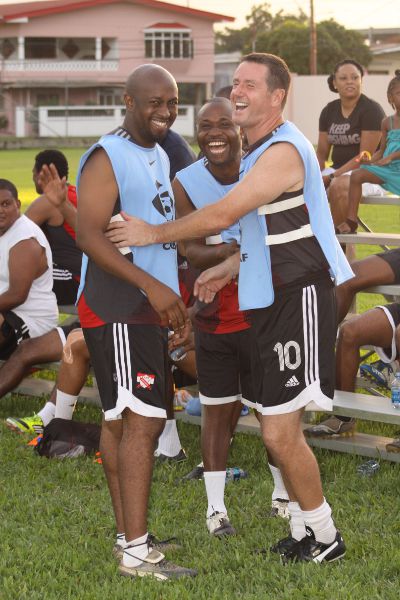 And for the players who took their own sweet time to leave; don't worry, there will be a next time.
Editor's Note: Persons interested in seeing more photos from the Football Festival can check on Facebook for the Wired868 Page.