Two months ago, the Trinidad and Tobago national football team was on the verge of elimination from the Caribbean Cup without kicking a ball as the Sport Ministry initially refused to financially support what Permanent Secretary Ashwin Creed described as an abysmal team.
On Sunday afternoon, those same "Soca Warriors" will play for the right to be crowned Caribbean champions at the regional finals against Cuba from 5 pm at the Sir Vivian Richards Ground in Antigua.
In another show of defiance, character and composure under pressure, Trinidad and Tobago eliminated the highly-rated Martinique team 5-4 on penalties to defy the odds by reaching its first final in five years.
Neal & Massy Caledonia AIA's elegant playmaker Ataullah Guerra gracefully stroked home the winning penalty. But the man of the hour, or two hours and 15 minutes to be more accurate, was team captain and custodian Jan-Michael Williams who matched several crucial stops in regulation time with a brilliant save from Frédéric Piquionne's penalty to turn the tide for the Warriors.
In February, an emotional Williams threatened to quit the international game after feeling emotionally neglected by the Trinidad and Tobago Football Federation (TTFF) while his fiancée, Candice Worrell, fought for her life after a brutal robbery. At the time, Marvin Phillip wore the number one shirt for his country and Williams was not even invited when the Warriors faced Finland in January.
Nine months later, Williams will lead his country into its most important battle since the Germany 2006 World Cup. His reversal of fortunes is a common theme within the squad.
Densill Theobald, a World Cup 2006 survivor and one of three Caledonia midfielders in the squad, was often ignored by national selectors in recent times and has not been a fan favourite. But, in Antigua, he has been Trinidad and Tobago's heartbeat; his precise and timely passes spurring on an inexperienced midfield.
Guerra too has frustrated local coaches in the past with inconsistent performances and dodgy timekeeping. At the Caribbean Cup finals, though, he has been responsibility personified.
Seon Power, Carlyle Mitchell, Curtis Gonzales, Devorn Jorsling, Aubrey David; all young men you would want on your side if you were going into battle.
There is little comparison between the grace and know-how of the 2012 Warriors and the 2006 edition; not yet, anyway. But, like Trinidad and Tobago's most successful team, Williams' men have mastered the art of bending without breaking.
In the 75th minute, the Martiniquais felt they had gotten just rewards for their enterprise down the flanks as 24-year-old Kévin Parsemain stepped inside Power and surprised Williams with a brilliant effort that flew into the far corner.
Trinidad and Tobago's co-head coaches Hutson "Barber" Charles and Jamaal Shabazz responded by sending on the lanky Jamal Gay as a replacement for Jorsling. Then Kevin Molino went in to play just behind Gay.
But two long ranged Joevin Jones efforts were all the Warriors had to show for their bustle. Meanwhile, Power was forced into a crucial intervention from Piquionne while Williams dove at full stretch to his right to keep out Martinique's number nine in the 83rd minute.
A minute later, Defence Force striker Richard "Shaka" Roy entered the fray; he is quick, burly and brave but still finding his feet at international level. Had North East Stars' outspoken striker Cornell Glen meshed with the present squad, Roy would probably have stayed at home.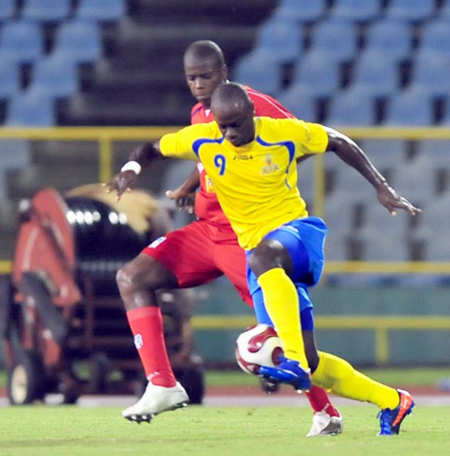 But, tonight, he earned his ticket to Antigua in some style.
A long ball caught the Martinique defence ambling forward inattentively and Roy timed his run superbly to break clear. Bang! His shot fizzed low into the far corner and the Trinidad and Tobago bench erupted in joy.
On to extra time and Molino spurned an opportunity, fashioned by Guerra, while Williams was again kept busy. But neither team could get the breakthrough as the game went into penalties.
There was nothing remotely lucky about this shootout. Each team kicked five times and every effort went firmly and accurately to the exact spot selected by the kicker.
But Williams saved one.
Piquionne struck the ball low and firmly to his left. But the W Connection goalkeeper was waiting for that very shot; maybe for his entire life. The 28-year-old stretched his six foot two frame to turn it around the post.
Next came Guerra; late as always and ambling forward as though he were playing for nothing more than bragging rights in front of his John John home.
Calmly, Guerra ran towards the ball, opened his body in one flowing movement and sidefooted the sphere home to his right. And the Warriors were into the Caribbean final.
On 6 October 2012, Williams, in a gushing response to an outpouring of support for the cash-strapped team, vowed to Wired868 that he would repay Trinidad and Tobago's fans with the Caribbean title.
On Sunday, at the Sir Vivian Richards Ground in Antigua, the Warriors will get the chance to fulfil that promise.
(Team)
T&T (Using a 4-4-1-1 system): 1.Jan-Michael Williams (captain); 4.Curtis Gonzales, 20.Seon Power, 5.Carlyle Mitchell, 17.Daneil Cyrus; 11.Kevon Carter (10.Kevin Molino 76), 18.Densill Theobald, 16.Keyon Edwards, 3.Joevin Jones (13.Richard Roy 84); 8.Ataullah Guerra; 9.Devorn Jorsling (15.Jamal Gay 69).
Unused substitutes: 21.Marvin Phillip, 6.Kareem Moses.
Injured: 7.Hughtun Hector, 12.Lester Peltier, 14.Willis Plaza.
Suspended: 2.Aubrey David.
Coaches: Hutson Charles/Jamaal Shabazz
2012 Caribbean Cup semifinals
(Friday December 14)
Trinidad and Tobago 1 (Richard Roy 90), Martinique 1 (Kévin Parsemain 75)
*–T&T won 5-4 on penalties after successful kicks from Densill Theobald, Kevin Molino, Carlyle Mitchell, Curtis Gonzales and Ataullah Guerra.
Cuba 1 (Yoel Colomé 9), Haiti 0