It's early days yet for the fever pace that comes with World Cup qualifiers to officially take hold.
Too early it still is for the anxiety and panic that comes with the fear of falling short in football's most glorious competition. And too early for the pundits to start debating about greatness and who's the best nowadays and the best ever.
If, though, you're a supporter of the Soca Warriors, Trinidad and Tobago's senior football team, it's already too late. With two years to go before the blast of the first whistle sends World Cup 2014 in Brazil under way, Warrior fans almost found themselves without a team to support.
It is not an altogether uncommon for local fans to sport another team's tee-shirts and allow that team's exploits to become a source of joy for them. Except for the Strike Squad and its close call on 19 November 1989, the 2006 World Cup team remains T&T only real success.
For too long have we had to carry the heavy burden of disappointment.  But is that a reason for the Ministry of Sport, or, to be frank, the Government, stalled in providing financial support for the national team?

Oh judgement, to quote the poet, those art fled to brutish beasts and men have lost their reason.
The major reason for the tragic situation of national football is, in my considered view, the dismal operation of an administration that should long ago have been shown a red card. But they have played on, despite the fact that they have continued to merely mark time while Time has marched steadily forward.
How can one expect a national team to compete at the highest levels given the people currently at the helm and the systems they espouse? Local football's technical department has long been run by self-serving individuals whose ineptitude has only gone uncensored because we have been too busy being content with the small-scale short-term successes we have achieved.
Another factor accounting for the current state of the national game has been the undisputed clout and influence of Jack Warner.
Not only did this enable us to get more than our fair share of chances at World Cup qualification but it also allowed us to play games against teams that really matter. I mean no disrespect when I say that a national team cannot get better by constantly playing sides which are lower down in the rankings than it is.
We also have to consider the feeder system we have in place which remains heavily reliant on the Secondary Schools' League as the main source of new talent for the national teams.
The age-group infrastructure that the TTFF boasts – or used to – so much about is a myth. Apart from the U-17 team, there is nothing that even remotely resembles a youth academy. There is nothing in place to make good 12-year-old players, say, into better 15-year-old footballers and eventually even better 17-year-old players.
In short, our national football plan is light years behind the rest of the world's and showing no signs of catching up with the countries that matter. At least not anytime soon.
And so we come to the national professional league run by Mr Skeene and company.
A good domestic football league does not guarantee success at the national team level (England?) but it certainly helps to substantially increase the pool of potential players from which the national selectors can choose (Spain). Skeene talks the talk and his intentions are doubtless good but he and his organization are always found wanting when it comes to delivery.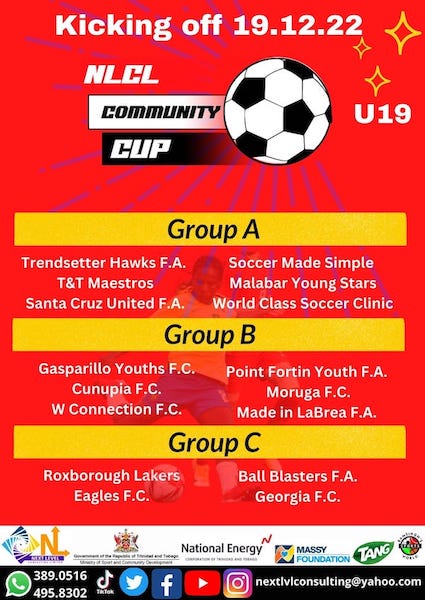 The Pro League falls short of producing players of any real substance perhaps because of the poor support it gets from both the business sector and the fans.
School football teams enjoy an automatic fan base in students and ex-students; professional teams have to promote themselves and lure potential fans to games. Those that do so successfully, generally those lucky enough to have corporate sponsors, have the ability to employ proper technical staffs and even set up extensive youth development programmes.
That brings us to the most important X-factor, the fans.
Success and failure at the national level depends to some extent as well on the effort we put in as fans. National teams are only as great as national support. And support is not real support if it is only visible when all is well and the team is riding the crest of the wave; real support, the kind that produces winners, is no less vocal, no less vibrant, no less visible in the tough times.
True football supporters – not fans! –  understand that love for a team goes beyond mere ritual attendance at important games. True football supporters understand that, even when we are hurt and disappointed at unexpected setbacks, our support must not waver.
In the face of defeat, true football supporters do not turn our backs and walk away from the team. It is precisely during the testing times that the team needs us most. True football supporters know that only too well.  Or ought to.
Perhaps all over the English-speaking Caribbean, certainly here in T&T, we do not seem to understand how much our presence in large numbers and our screaming voices can lift a team above itself. And with the football association in disarray and no new blood, no new vision on the horizon, the weight of responsibility that falls on our shoulders is doubled.
It is already too late for the Soca Warriors to worry about World Cup 2014 but it's not too late to start planning for World Cup 2018. We must remind ourselves that we have the potential to repeat our World Cup 2006 Finals appearance. And even if we don't quite manage that, we must not, we must never again crash out of the tournament with two full years to go before the finals.
We, the football loving public of Trinidad and Tobago are well within our rights to expect more than we are now getting. We must want better, we must demand it. Both from the TTFF and from the Ministry of Sports. Now. Starting today.
Because it's not too early for true Soca Warriors and true Soca Warriors supporters to wake up from our slumber.