With little money, fewer friends and no sporting venues, the 2012/13 Trinidad and Tobago Digicel Pro League is preparing for another kick-off.
The season is scheduled to start on 7 September with what is likely to be a Super Friday double-header. There is no word on who is playing yet, though. Or even what clubs are taking part in the competition.
If that reality conjures up visions of disorder, then one would not expect to find at the centre of the storm a more unlikely person. Pro League CEO Dexter Skeene sees a completely different picture.
"The League is at a place where it is strategically positioned to attract investors to come in," Skeene told Wired868. "We are at a stage where I am excited by the prospects."
Never fidgeting, lowering his voice or losing eye contact, the 48-year-old CEO made no attempt to feign a bond with the interviewer by leaning forward in his chair. He just smiled.

"In an ideal world, the fixtures would be up," said Skeene. "That is best practice. But given our circumstances with Jabloteh still trying to raise money and clubs wanting to come in, I think it would be foolhardy to not be as facilitating as possible.
"We want to give the Brent Sanchos and so on every opportunity to come into the League."
As the League struggles to make an impact on Trinidad and Tobago's armchair sport fans and clubs fight to stay afloat in the face of sizeable financial challenges, Skeene has his fair share of critics. Some say it is a minor miracle that the League endures and blame Skeene for that fact. It does not seem to have crossed their minds that they should instead be thanking him.
The League is often compared—unfavourably—to longer-established overseas competitions like the English domestic game and even the United States' Major League Soccer (MLS). Its inability to provide more than a week's notice for fixtures irks teams and supporters alike while the uncertainty about which clubs will compete next season has created an environment conducive to rumour-mongering and doomsaying.
Eternally optimistic and composed, Skeene sees these negatives merely as growing pains for a young competition.
According to him, the League was forced to delay word on next season's participating clubs so as to give founding member San Juan Jabloteh every opportunity to find the funding necessary to stay in the competition. Jabloteh, once bankrolled by CLICO, lost its sponsorship deal with Adam's Construction last season and was inexplicably bypassed for assistance by the Sport Ministry.
Moreover, League Chairman Larry Romany doubles up as the Trinidad and Tobago Olympic Committee (TTOC) head and has only just returned from the London 2012 Olympics. And final word on participation cannot come until Romany convenes a meeting of the various club representatives to review the applications from potential Pro League teams.
As for the League's flexible fixture list, Skeene explained that, since clubs don't own grounds, they are reliant on State-owned stadia and a Pro League booking sometimes gets cancelled if an MP needs the venue for an event.
Welcome to professional sport in T&T. But beginning his eighth season as CEO, Skeene demonstrates that, challenges notwithstanding, his optimism is undiminished.
"We know that people can get frustrated and we do too," said Skeene, "but it is not just about bringing things wholesale from abroad. We have to see what is unique to Trinidad and Tobago and what are the best practices from outside that might work here.
"That is what makes this job and life on the whole so exciting and interesting."
A former Trinidad and Tobago international footballer, Skeene boasts a résumé which includes five years as an assistant manager at Workers' Bank and a stint as an equity specialist at the Ministry of Finance. It features as well a BA in Economics from Columbia University in the US and a UWI certificate in Marketing, Public Relations and Advertising.
Last season, the Pro League did enjoy reasonable success in Malabar and Marabella with its newly introduced "Super Fridays." These double headers, played between 6 and 10 pm, gave football fans an opportunity to start their weekend watching the nation's best local talent.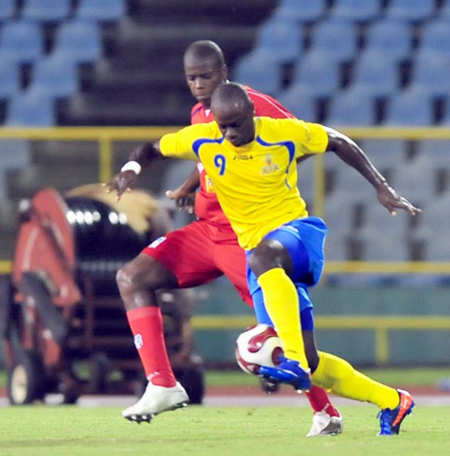 This season, the League will build on that platform by adding $100 all-inclusive viewing areas at Friday games where patrons can enjoy refreshments like corn soup, fries, hot dogs, doubles and, of course, beers.
Attached to each participating club, there will be competing rhythm sections whose transport and appearance fees, Skeene says, the Ministry of Community Development will foot.
Wired868 understands, from separate queries, that the task of booking and sponsoring rhythm sections is set to be split between the Ministry of Community Development, the Ministry of Gender, Youth and Child Development and the Ministry of Arts and Multiculturalism. Presumably, the original negotiations were completed before Prime Minister Kamla Persad-Bissessar's decision to super-size her Cabinet.
Fun Fridays for football fans will be balanced by Saturday fixtures for full families that feature face painting, father-and-son door prizes and bouncy castles as well. Instead of the clubs, these initiatives will be put in the hands of Pro League staffers and volunteers.
"Trinidadians are generally spectators and not supporters," said Skeene. "We are a very fortunate people with our natural resources and our fun-loving attitude but there are negative aspects to that as well.
"So we have to be creative to get them more involved and we plan to build on the fact that Trinis love to socialise."
Skeene's playing days as a standout with Maple and an international player went from the early 1980's to the period when Gally Cummings' "Strike Squad" was all the rage. But his focus is not on a return to yesteryear but on forging a new path for local football.
"In the old days, there was just one television channel," said Skeene, "and there was no cable television showing teams like Barcelona and Real Madrid every other day and sports bars and so on.
"Even cricket and football had different seasons then and didn't compete with each other. Things have changed, so our mindset must change too. We have to be creative to bring sport to the people and we are trying to meet them halfway."
Editor's Note: Click here for the second and final part of Wired868's interview with Pro League CEO Dexter Skeene