Sport, to paraphrase UK Times writer Simon Barnes, does not build character as much as it reveals it.
There is little that compares to the flood of nervous tension as two or two dozen athletes step into the public glare knowing that the next 90 minutes or 100 overs would prove the usefulness of the last week or year or even decade of your life.
At the final whistle, only the scoreboard matters.
Referee Neil Brizan's shrieking whistle, on Thursday night in Marabella, may have sounded like a death announcement to T&TEC coach Dexter Cyrus. In the 2011/12 Digicel Pro League's final fixture, the longstanding front runners lost the domestic title with a shock 3-2 loss to Caledonia AIA at the Mannie Ramjohn Stadium.
Elsewhere at the Ato Boldon Stadium in Couva, W. Connection coach Stuart Charles Fevrier dropped to his knees and shook his fists as the "Savonetta Boys" secured their first League title in seven years with an 8-1 rout of Police.
For Connection, it was a triumph of common sense, resilience and, most of all, faith.
The bite of the economic downturn prompted club president David John Williams to offload much of his talent. And Connection's season was interrupted by Olympic call-ups and the tragedy that befell its captain Jan-Michael Williams—whose fiancée, Candice Worrell, is still not fully recovered from a brutal attack by an unknown assailant on 20 January 2012.
"It is a real special championship because of all those challenges," Fevrier told Wired868.com.
Yet, the story of the 2011/12 Pro League is, first and foremost, about T&TEC's collapse.
Cyrus, a former national striker, entered the Pro League after successful coaching spells in the lower divisions and T&TEC's superior resources saw the club raid rivals for talented players such as former Joe Public leader Kerry Baptiste and present "Soca Warriors" captain and goalkeeper Marvin Phillip.
Trinidad and Tobago has always had government-funded football teams in its top tier but it is hard to remember taxpayers' money used as lavishly and there is a debate to be had about the fairness of this in a professional arena.
Still, there was much to admire about the panache of Cyrus' coalition that didn't just announce its presence at the party; the "Electricity Boys" hijacked the DJ's booth.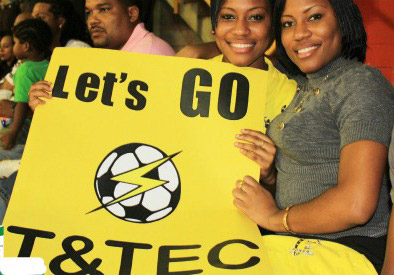 By December, the destination of the 2011/12 title seemed a foregone conclusion. Yet, T&TEC hinted at a flaw from successive Cup defeats to Caledonia AIA and Connection.
"When you play a team so many times in one season," said Caledonia AIA coach Jerry Moe, "you start to see their weaknesses."
Cyrus' troops whipped Caledonia 2-0 in their first Pro League meeting but the "Eastern Stallions" edged the second league encounter as well as the Cup clash. And, despite T&TEC's League form, the club found Connection to be unshakable.
It is not easy to explain the pressure felt by a frontrunner. In most offices—even Parliament—the opportunities to shift blame seem endless. But Cyrus has no such luxury.
Every week, T&TEC was obliged to win; regardless of the opponent, the ground or the condition of his squad. Most times, his squad obliged. And yet Cyrus always felt Fevrier's breath on the back of his neck.
On 23 March 2012, T&TEC could only draw with Connection in a key fixture and, just one point and 90 minutes shy of the finish line, Cyrus snapped.
T&TEC played Police on Tuesday and was forced to face Caledonia two days later on Thursday March 29, rather than Friday, due to ground unavailability.
Cyrus smelt a conspiracy and accused the Pro League of making an unfair physical demand of T&TEC that would not have happened to a more established team.
"This is ridiculously unfair," said Cyrus, in a March 28 interview with Wired868. "… I feel there is some form of biasness."
After blasting the establishment, Cyrus thanked his players and staff for their season's work and insisted that he would be proud of them regardless of the result against Caledonia.
It was music to the ears of the Connection camp.
"I sympathise with T&TEC but, instead of complaining, we believe in looking for solutions," said Fevrier. "When you look for sympathy, you have to be careful because you pass it on to your players. They feel that if they lose the coach will understand.
"Psychologically, it doesn't rub off on your players the right way."
When Connection and T&TEC drew, it was the former team's third game in a week while the Electricity Boys were fully rested. Defence Force, due to last year's State of Emergency, was also playing three games a week for much of the past six weeks.
But, if there was a bigger picture, Cyrus could not see it.
When a car suddenly swings in front you on the highway, the experienced driver instinctively looks to see which lane is clear and reacts; the novice releases the steering wheel.
Did T&TEC lose composure?
On match day, Caledonia had only professional pride at stake but that was enough for Moe.
"I had to curse at the players," Moe told Wired868, "because some of them were just seeing it as their last game of the season and I had to get their heads right.
"We still have two Cups left to play for this season and the CFU (Caribbean Football Union) finals so we used that as motivation."
Sheldon Holder put Caledonia ahead in the 12th minute but T&TEC answered through Guyanese international Vurlon Mills, just two minutes later, and the game was tied at the interval.
In Couva, Connection had a commanding 3-0 lead over Police at halftime but destiny was not in the club's hands. A draw for T&TEC would have secured its maiden Pro League title.
"We have no control over the next game," Fevrier told his players. "Let us concentrate on our game and forget about T&TEC and Caledonia."
But the club president, Williams, was listening to the action in Marabella and relaying news to Fevrier on the bench.
Two minutes after the restart, T&TEC went ahead as midfielder Kevon Neaves dispatched a penalty.
"When I heard T&TEC was leading, I thought they would go on to win," said Fevrier.
Connection went flat and the goals dried up in Couva.
But, in Marabella, Holder scored again in the 61st minute to equalise for Caledonia; Moe had not let go of the wheel.
"T&TEC's strength is in possession," said Moe, "so if you let them put the ball down and play, they will grow in confidence… So, we started defending higher up the pitch and forced their defenders to play long."
Seven minutes later, Caledonia was ahead as substitute Makesi Lewis finished a tidy buildup with a powerful drive past Phillip. T&TEC could not find the crucial response.
Cyrus had predicted that precise outcome on the eve of the match.
"I know football," said Cyrus, this evening. "Ten minutes into the second half, we were always going to fade. And it happened just the way I thought it out.
"We just were not able to go into that next gear as we usually do."
In Couva, Connection ignited upon news of T&TEC's slip and scored five times after Lewis' strike for Caledonia.
Fevrier, a three-time coach of the year and St Lucia Medal of Merit awardee, offered advice as consolation.
"Fixture congestion is normal for a big team and you see it happen with successful clubs all over the world," said Fevrier. "I complained in the past but I realised it is something you just have to deal with."
But Cyrus said his players' mental sharpness was not the problem and insisted that two League games in 48 hours—rather than a League then Cup match—made the difference.
"I wasn't convinced that we could win the game (against Caledonia)," he said, "but not based on the opposition but the situation we were put in."
As he did before the game, Cyrus congratulated his team for getting so close to the title. He said that, at the start of the season, T&TEC targeted a 2013 CFU berth, which meant a top two finish.
T&TEC, he pointed out, had also finished with the most goals scored and the least conceded.
Still, the Electricity Boys had claimed all but the most important thing. When opportunity knocked, T&TEC blushed at the honour but did not answer.
The Lucozade Sport Goal Shield and Digicel Pro Bowl remain up for grabs and Cyrus admitted that he is desperate for a trophy.
"We are definitely going at the two Cups with all guns blazing," he said. "One trophy would make these second place (finishes) go away."
Like Connection and Caledonia on Thursday, T&TEC must show courage under the most adverse conditions and beneath the glare of a skeptical public to earn the mantle of 'champion'.
If you have never swallowed your own insecurities and risked everything for a goal—on or off the field—you would not understand the challenge. It is the beauty of sport.